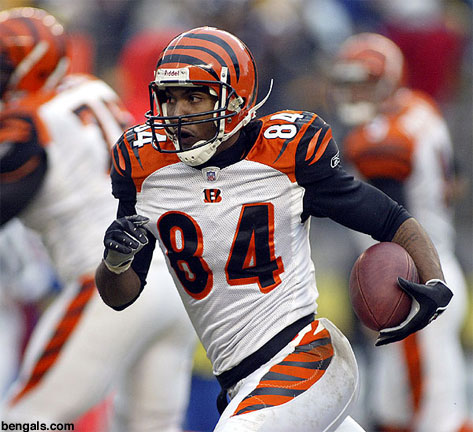 How I did last week:
Jon Kitna- 260 yards, 1 TD, and 1 INT- Not so great. Never have faith in the Lions

Steven Jackson- 20 Carries for 96 yards, and 1 TD. Jackson also had 4 catches for 71 yards. Pretty solid day for him.

Justin Fargas- Big day for Fargas. 146 rushing yards, 1 TD, and 18 receiving yards(2 catches).

Roy Williams- No end zone for Roy. 5 catches 85 yards. Stinkin Lions!

Braylon Edwards- Huge day for my man Braylon. 7 receptions 149 yards, and a TD. Way to go.

Lee Evans- Swing, and a miss. Evans only got 4 catches for 51 yards.

Jason Witten- Would have been a great pick, if I had said the other Cowboys tight end Jason Fasano. Witten finished with 6 catches for 65 yards.

Patriots D- My worst pick. Pats damn near lost the game outright. They gave up 24 points, got no sacks, 1 fumble recovery, and 1 INT. Stinking no good cheaters.

Overall Week 13 Grade- C
Time to do better than last week. Here are the picks:
QB Tony Romo- Don't hate me for this Eagles fans, it's only fantasy football. Since the stinking Lions can't do anything right for me, and they have probably the worst secondary in NFL history, I am picking against them. Romo should have a field day picking that defense apart.
RB Brian Westbrook- Westbrook is just too good not to pick. He missed the last Giants game, and should be a big factor in this one. Over his career he has owned New York. Expect that to continue.
RB Maurice Jones-Drew- This guy is even smaller than Westbrook, but is almost just as dangerous. Drew has scored in 4 straight games, and I think his streak continues this week.
WR T.J. Whosurmamma- Championship. The Bengals love to pass, and Palmer has been finding Houshmandzada all year. Should be a good play against St. Louis.
WR Torry Holt- Sticking with the same game, the Bengals defense tends to give up big plays. With Bulger coming back I am going with the hall of fame receiver Holt.
WR Plaxico Burress- I hate to say it Eagles fans, but Plaxico seems to own the Birds. He has a TD almost every time they meet up. He especially has success against Sheldon Brown. Watch for that match up on Sunday.
TE Chris Cooley- Cooley has been great this year. He is the only one who scores on the Redskins offense. Against that cover 2 Cooley should have a big day.
D Buffalo Bills- Buffalo should kill the lowly Miami Dolphins. Even if Miami somehow won the game, they won't score a lot of points. Should be a good play.
Tags: Week 14 Fantasy Picks