Philadelphia Eagles rumors: Might Beau Allen and Vinny Curry return?
You may begin to hear rumors about a possible reunion between Vinny Curry, Beau Allen and the Philadelphia Eagles, but is that a good idea?
The names Vinny Curry and Beau Allen are floating around the fan base again. With the close of a season comes something that may never go away in the NFL. Yes ladies and gentlemen, you're about to be bombarded with mock drafts and rumors of where players might end up. If you're a Philadelphia Eagles fan this shouldn't surprise you.
The 'new norm' in Philly includes deep playoff runs, and seeing as how the Eagles had chances to advance to the NFC Championship Game and didn't, the next order of business for Howie Roseman and company may be tweaking the roster slightly to ensure Philly's right back in the hunt next season.
Here's what we know (we think).
A season ago, we all were aware of the fact that Beau Allen and Vinny Curry probably weren't going to end up staying in Philly for the 2018 season.
Both needed to be re-signed. Both were probably going to get bigger deals than they deserved. Both probably weren't going to get those deals in Philadelphia.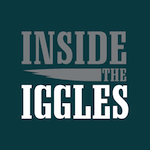 Want your voice heard? Join the Inside The Iggles team!
Write for us!
As a matter of fact they didn't.
When the free agency period had ended, both Curry and Allen traded the wings on their helmet for whatever that design is on the Tampa Bay Buccaneers' helmets.
You know that decaying flag thing that they have going on.
Subpar seasons by both have us wondering if Tampa might decide to go in another direction. Keep in mind the fact that they just hired Bruce Arians who'll be bringing Todd Bowles in as his defensive coordinator.
That may mean Tampa switches from a 4-3 defensive scheme to the 3-4. Both Curry and Allen have some experience in said scheme, Curry even experienced one of his better seasons in 2014 while playing in one.
Still, the change, if it happens, will probably force Arians and Bowles to re-evaluate what they already have. Both Curry and Allen are expensive. Both are better suited for the 4-3 scheme.
Seeing as how Tampa has so many needs, one might wonder if this would be a good time to move on. They experience no cap hit and save $5 million if Allen walks. Curry is clearly not ever going to be the player that everyone keeps telling us that he is.
Both are also aging. A reunion isn't what the Eagles need. They, first, have to clear some money. They, then, need to make wise roster decisions. This team has holes. The hope is the money's spent wisely.
Overpaying for Allen and Curry who are both overpaid role players doesn't fit that bill. The Eagles need to look ahead for answers, not in the rear-view mirror.
Disagree? The debate table is open.