2019 NFL Draft: Philadelphia Eagles are being linked to Jeffery Simmons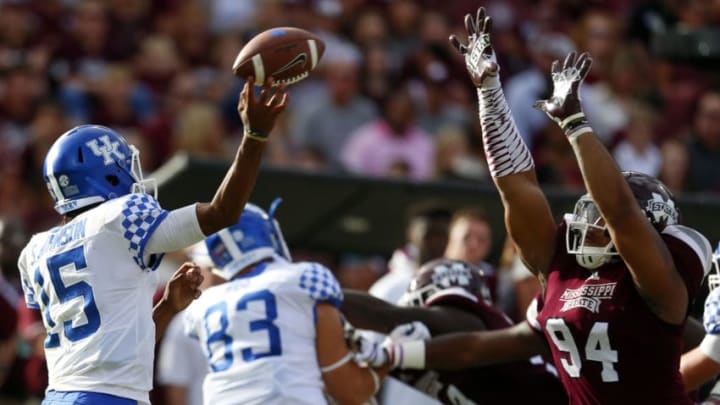 STARKVILLE, MS - OCTOBER 21: Stephen Johnson #15 of the Kentucky Wildcats throws a pass as Jeffery Simmons #94 of the Mississippi State Bulldogs tries to defend during the first half of an NCAA football game at Davis Wade Stadium on October 21, 2017 in Starkville, Mississippi. (Photo by Butch Dill/Getty Images) /
Could the Philadelphia Eagles take a redshirt candidate in the first round by selecting Jeffery Simmons?
The Philadelphia Eagles have made their draft plans quite clear this offseason. While they didn't just come right out and say who they are picking, they haven't been shy about their strategy. One, they will take the best player available whenever it's their turn to pick.
That's the luxury of having a complete, win-now team. And although they will take the best player available, it's apparent that their best players for early picks come from the trenches. Whether it's offensive or defensive linemen, the Eagles are likely to take a big man early, rather than a position such as wide receiver, or maybe running back.
Knowing what we know about the Eagles, it's quite possible to assume that they could potentially take a guy who won't play full time until the 2020 season. Being that the Eagles are just on the hunt for depth players at this point, any guy they draft early on will most likely be a substitute during their first season anyway.
So if a player is injured, that may not factor into the Eagles' decision to pass up on them or not. After all, a torn Achilles at a Pro Day in Washington didn't prevent the Eagles from spending a second-rounder on Sidney Jones. So who is to say that a torn ACL from February would prevent the Eagles from taking a potential top-ten pick with the 25th overall selection?
Jeffery Simmons to the Eagles is a possibility
Bleacher Report's NFL Draft Analyst Connor Rogers has heard recently that the Eagles are gaining interest in Mississippi State's defensive tackle, Jeffery Simmons. As you may know already, Simmons suffered a knee injury back in February, which hurt his draft stock, as expected.
However, just because the timing of the injury was bad, doesn't mean he will get pushed entirely out of the first round. The Eagles will likely be the first playoff contending team that could take him, and if they don't, he probably doesn't fall past the Colts, Rams, or even the Patriots.
Simmons could return to the field in November, at the earliest – but it's better to look at him as a future investment. According to sports medical analyst David Chao, his first season will most likely be a medical redshirt. But being that the Eagles are stocked with Fletcher Cox and Malik Jackson at the defensive tackle position, they are good on the front-end for 2019.
Although they need depth, they will likely sign a free agent, and could potentially get Simmons back midway through the year to get some snaps here and there. As Cox stated last week, 'whoever drafts that kid will be really happy.' Maybe Philadelphia will be that team this Thursday.