Revisiting 5 iconic statements in Philadelphia Eagles lore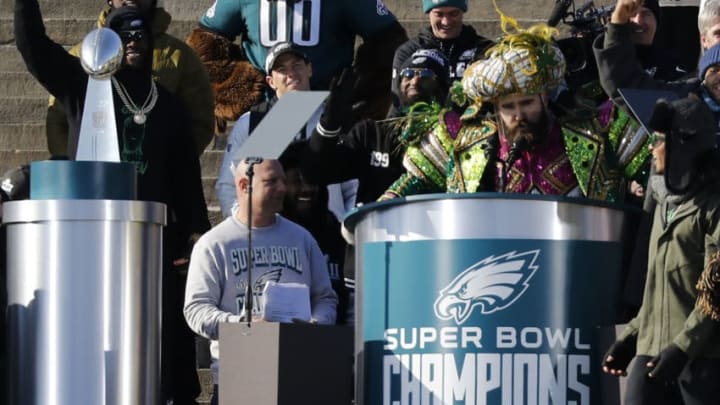 PHILADELPHIA, PA - FEBRUARY 08: Center Jason Kelce speaks at a ceremony honoring the Philadelphia Eagles Super Bowl win on February 8, 2018 in Philadelphia, Pennsylvania. (Photo by Aaron P. Bernstein/Getty Images) /
1. 'We want Dallas! Dallas, we hate you!' -unknown Eagles fan, January of 1980
He probably had no idea about what he had done at the time. In one simple yet honest assessment, this young man would become one of the poster children for the hatred that every Eagles fan carries for that team with the star on their helmet.
The disdain that 'Birds' fans have held for the team that has long been incorrectly dubbed as 'America's Team' shouldn't be a secret to anyone, whether you follow these two teams or not, but nothing captures that like a scene that was captured by NFL Films.
The Eagles had just taken care of business versus the Minnesota Vikings, and that meant they would host the NFC Championship Game eight days later. Once victory was certain, the heartfelt words of an Eagles fan who was in attendance were uttered, and the Dallas Cowboys and Philadelphia Eagles rivalry entered a trajectory that it hasn't descended from since. 'We want Dallas. Dallas, we hate you'.
Those words will live in infamy.
Here's the only thing that would have made this better: It's hard to improve on a classic, but perhaps, the only thing that would have made this better would have been a Joe Namath-type guarantee or a shot at Tom Landry and that ridiculous hat of his.