Philadelphia Eagles will miss Jason Garrett coaching Dallas Cowboys
The Philadelphia Eagles will no longer be dealing with Jason Garrett in the NFC East after the Dallas Cowboys decided to move on from their former head coach.
Ever since the Philadelphia Eagles won the NFC East title in Week 17, it seemed like only a matter of time before the Dallas Cowboys made the move official by moving on from Jason Garrett as their head coach.
While it ended up taking longer than originally expected, the Cowboys made the decision official on Sunday in the middle of the Eagles playoff game against the Seattle Seahawks, which also seems like classic Jerry Jones.
All of a sudden, Philadelphia along with every other team in the NFL will be keeping a close eye on who Dallas ends up hiring as their next head coach since the talent alone to work with seems like a dream job for any head coaching candidate.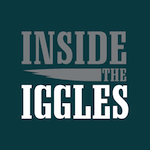 Want your voice heard? Join the Inside The Iggles team!
Write for us!
But also, while the Cowboys certainly made the right decision in moving on from Garrett after 10 seasons, there is plenty of disappointment surrounding the City of Brotherly Love since Eagles fans loved to have him around.
As bad as it sounds, Garrett's inability year after year to help the Cowboys live up to the high expectations was always appreciated by Eagles fans, including this past season.
When looking at all of the major injuries Philadelphia has been dealing with all season, it was basically laughable to see Dallas fail to take advantage of the situation by failing to win the NFC East, and end up watching the playoffs from home.
In fact, with all of the talented teams Garrett worked with during his tenure with the Cowboys, it was easy to understand the frustration behind Dallas failing to even earn a single trip to the Super Bowl.
Now that Dallas will be going with someone new as their head coach, there's going to be more fear over the next one having what it takes to help the Cowboys finally live up to the hype for a change, and emerge as a serious threat in the NFC one again during the 2020 season.
Then again, maybe the Eagles and their fans will get lucky with the Cowboys going with a candidate who turns out to be just as bad as Garrett was, although that seems nearly impossible at this point.