Philadelphia Eagles fortunate Joe Burrow won't be joining NFC East
With Joe Burrow expected to be the top overall pick in the 2020 NFL Draft, the Philadelphia Eagles are fortunate the LSU star won't be joining the NFC East next season.
Even though the Philadelphia Eagles are set at quarterback with Carson Wentz, the NFC East champions are still curious to see where LSU star Joe Burrow will end up in the 2020 NFL Draft, although it almost seems like a lock he will end up with the Cincinnati Bengals.
After leading LSU to an impressive 42-25 victory over Clemson in the National Championship by throwing for 463 yards and five touchdowns, Burrow built an even stronger case to be the top overall pick by the Bengals once the draft arrives in April.
Of course, there's always the possibility of another team in need of help at quarterback expressing interest in Burrow convincing Cincinnati to accept a trade, but at least Philadelphia shouldn't be concerned about the youngster joining the NFC East.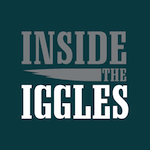 Want your voice heard? Join the Inside The Iggles team!
Write for us!
Around this time last year, the Washington Redskins and New York Giants were both in serious consideration for using one of their top draft picks on the quarterback position, which they did with Dwayne Haskins and Daniel Jones.
Since it would be foolish for both teams to consider going with another quarterback when looking at all of the potential surrounding these two, the Eagles clearly don't need to worry about Burrow ending up on one of these two squads.
Take this into consideration with the fact that Dak Prescott isn't going away anytime soon for the Dallas Cowboys after his work from the previous four seasons, it's safe to assume there is no way of Burrow joining the NFC East during the draft.
Just like every other quarterback that enters the NFL, there is no guarantee of Burrow going on to succeed, whether he happens to join the Bengals or another team.
But after watching the kind of historical season Burrow put together at LSU this past season, no one is denying the potential is certainly there for the quarterback, and there's always a chance he causes problems for Philadelphia at some point.
In fact, the Eagles could even see Burrow early on in his NFL career since the Bengals are scheduled to come to town in 2020 for a home battle, but at least this would still be better than seeing him twice a year as a division opponent.