Eagles rumors: Did Philadelphia offer Jadeveon Clowney a contract?
Did the Philadelphia Eagles make an actual offer to Jadeveon Clowney for the 2020 season?
Despite the NFL Draft and recent schedule release taking up most of the conversations these days in the City of Brotherly Love, there have still been plenty of Philadelphia Eagles rumors surrounding the possibility of the team adding Jadeveon Clowney on defense.
Rightfully so, the former No. 1 pick has been considered one of the top free agents from the offseason due to the impact made over the years as a member of the Houston Texans along with part of last season with the Seattle Seahawks.
But as great as it has been to watch Clowney make a significant impact on the defensive side of the football, his asking price has apparently been way too high, which is part of the reason why he is still in search of a new team for 2020.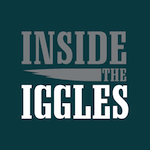 Want your voice heard? Join the Inside The Iggles team!
Write for us!
As Eagles fans have learned in recent weeks, there have been numerous reports over potential interest in Clowney on Philadelphia's end along with numerous other teams, even if there is still some tension over his "cheap from" in the playoffs that knocked Carson Wentz out.
At the end of the day, if the Eagles truly believe that Clowney can provide another boost on defense to put the team in better position to compete for another NFC East title, the two sides will figure out a way to move on from the past.
With that being said, it appears there is another rumor linking Clowney to the Eagles, this time coming from radio host Dan Sileo over how Philadelphia has put a deal in front of the star defender.
The @Eagles have put a deal in front of @clownejd …The @Seahawks want him back…BUT both deals are near what Clowney thought he was going to get…stay tuned!!

— Dan Sileo (@DanSileoShow) May 9, 2020
First off, let it be known this is still just talk at this point, and simply just another rumor, meaning Eagles fans probably shouldn't get too excited until more potential details emerge.
However, if Sileo's report does end up being accurate, and there is a deal for Clowney to consider, all of the attention will quickly shift towards whether Philadelphia has a legitimate chance to sign the free agent.
Once again, the fact that Clowney is still available nearing the middle of May shows how cautious teams have been in making sure they don't overpay for the star defender since like most signings, there are obviously some concerns.
Sooner or later, Clowney will need to realize the previous money he was hoping for is simply going to be too much. And while other teams, including the Seahawks, have expressed interest, the Eagles could be his best option from the perspective of joining a playoff-caliber team.