Philadelphia Eagles make changes to medical staff yet again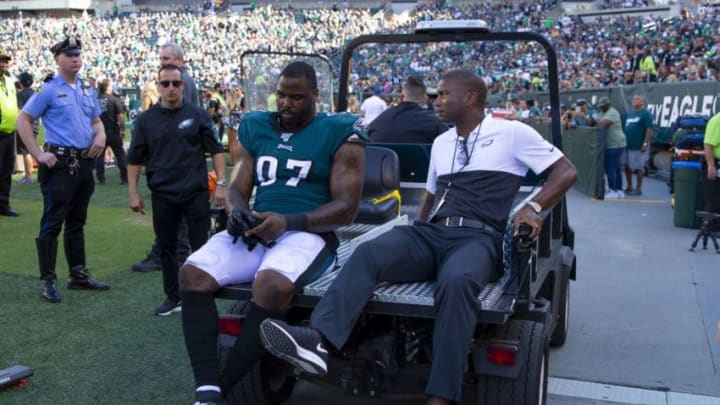 (Photo by Mitchell Leff/Getty Images) /
The Philadelphia Eagles have again made changes to their medical staff.
There are certain things that have just become a tradition if you're a Philadelphia Eagles fan. It seems like, every year, we're talking about where Carson Wentz ranks among the game's best players, who's going to step up at wide receiver, and whether or not this team's cornerbacks scare anyone.
We can also throw Philly's medical staff into the mix of relevant Eagles conversations. Don't look now, but vice president and general manager Howie Roseman is shuffling the deck again. According to a report by ESPN's Tim Mcmanus, the "Birds" have elected to add another name to the team and part ways with two others.
Here's the quote from Mcmanus via Twitter.
"The Eagles have made changes to their sports medicine/performance staff, per sources, adding Eddie Grayer as assistant strength coach & parting with assistant athletic trainers Micah Gerhart and Mark Lewis. Grayer worked with new director of sports performance Ted Rath in L.A."
Here are two immediate reactions to the news.
1. This seems to happen a lot, doesn't it?
if this seems like a familiar refrain, it's because it is one. Somewhere around four months ago, Jeff McLane of the Philadelphia Inquirer reported the team had made a decision not to renew the expired contracts of Shaun Huls and Shireen Mansoori. Huls had served as the director of high performance while Shireen Mansoori served in the role of director of rehabilitation.
That came on the heels of a decision that the Eagles brass made prior to 2019 to part ways with their head team physician and head internist Stephen A. Stache after just one NFL season. Prior to that, in 2018, Chris Peduzzi stepped down. Head physician Peter DeLuca and head internist Gary Dorshimer were allowed to leave in subsequent moves. All three had been with the team for almost two decades.
All Eagles fans know is this. Guys keep getting hurt, and it takes them a long time to get back on the field when they do
2. If we're going to continue to discuss a possible reunion with all of these former players, it wouldn't hurt to have a nice team in place.
Is anyone else thinking about how much we're told that the Eagles plan is to get younger? If that's the case, why does everyone keep tossing the idea of bringing back guys like Jason Peters and LeSean McCoy?
If that's still a part of the Eagles' thinking, it's definitely wise to make sure the Eagles have the best medical team possible. Again, seeing guys carted off and hearing that they won't be back for long periods of time is one of the most frustrating parts of being an Eagles fan. Sure injuries are a part of the game, but when Jordan Howard misses six games with a "stinger" after we were all told that he was "day-to-day", it would seem some sort of change with the medical team is needed. Hopefully, the Eagles organization has gotten it right this time.