Several Philadelphia Eagles stars reportedly will report to camp early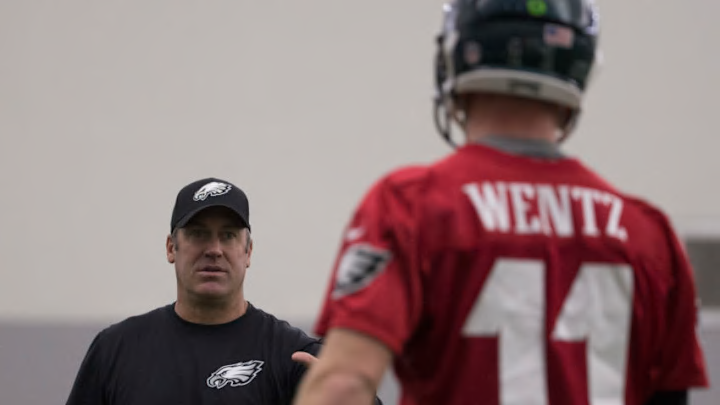 PHILADELPHIA, PA - MAY 13: Head coach Doug Pederson of the Philadelphia Eagles talks to Carson Wentz #11 during rookie camp at the NovaCare Complex on May 13, 2016 in Philadelphia, Pennsylvania. (Photo by Mitchell Leff/Getty Images) /
It looks like several Philadelphia Eagles will report to camp early.
At this point, any news involving the Philadelphia Eagles and training camp dates falls into the category of "emotional roller-coaster rides". Ask any fan, and they'll probably all issue the same response. Are we having a football season or not? Will there be an NFL preseason or not? That's all any of us really cares about.
One minute, the league is scrapping two games. The next, we're talking about how we may have jumped the gun because the NFLPA hadn't really voted on anything. Then, the players association issued a vote, and they're talking about canceling the entire preseason altogether. Here we are, and the NFL will, indeed, cancel Week 1 and Week 4 of the preseason.
Now come those other questions. When will the staff return to work? When will Eagles training camp begin? As we all recover from another Fourth of July, we're all searching for answers, even the media. Recently, the great Les Bowen offered some clarity.
It appears that there are a few Eagles players that will return to the NovaCare Complex early for training camp.
Here's something of note just in case you missed it. According to Les Bowen of the Philadelphia Inquirer, the plan is still on for the Eagles coaches to return to work at the Eagles facility on July 10th. They'll then quarantine, but here's a twist though and something "Birds" fans will find interesting.
Team rookies, select veterans, and quarterbacks will report to work on July 22nd. We can expect the rest of the 90-man roster at the NovaCare Complex on July 22nd, if there is a complete 90-man roster.
After months of virtual training, Jalen Reagor, and John Hightower, and Quez Watkins get to share the room with new Eagles wide receivers coach Aaron Moorehead, and all three can potentially catch a few passes from Carson Wentz. That should make you smile if you're  "Birds" fan. Again, any steps towards real NFL football sounds like good news at this point.