Philadelphia Eagles: 10 Possible replacements for Brandon Graham in 2021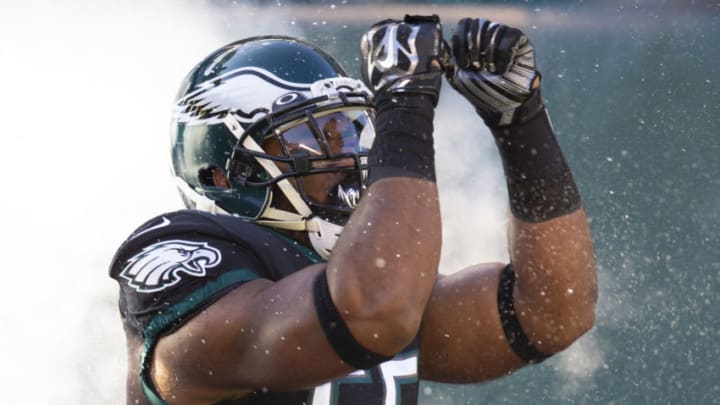 Brandon Graham #55, Philadelphia Eagles (Photo by Mitchell Leff/Getty Images) /
Tyreke Smith #11 of the Ohio State Buckeyes (Photo by G Fiume/Maryland Terrapins/Getty Images) /
Could another Buckeye wind up in the NFC East? Could this one join the Philadelphia Eagles?
Stop us if you heard this one before. A member of the Ohio State Buckeyes could be seen as being named among the nation's top pass rushers by the time the NCAA football season reaches its close, assuming there is an NCAA football season. To make things more interesting, just like we saw in the 2020 draft, that Buckeye could wind up the NFC East if selected in 2021's selection meeting.
This time, the subject of conversation is Tyreke Smith. He's a six-foot-four and 267-pound standout who may not be in the same mold of Chase Young, but with a stellar season with one of the country's top programs, he could vault himself into the top ten of most NFL scout's best pass rushers in the country.
Brenton Cox is a six-foot-four and 247-pound prospect from "The Swamp" who transferred to the Florida Gators from the rival Georgia Bulldogs after UGA made the decision to dismiss him from the team for receiving a misdemeanor charge that involved marijuana.
That normally lands someone in the position we see those guys on Netflix's Last Chance U having to endure. Somehow, Cox landed on his feet at another of the country's most recognizable programs. This one is a Bulldogs rival. Perhaps a nice season by Cox as a freshman and the Gators knowledge that they'd lose Jon Greenard had a lot to do with that turn of events.
Fast forward to the present, and you have to believe that a nice season by Cox will land him on a list of the top 15 defensive ends in the country. We'll have to wait and see if that's how things play out.