Philadelphia Eagles: 10 Possible replacements for Brandon Graham in 2021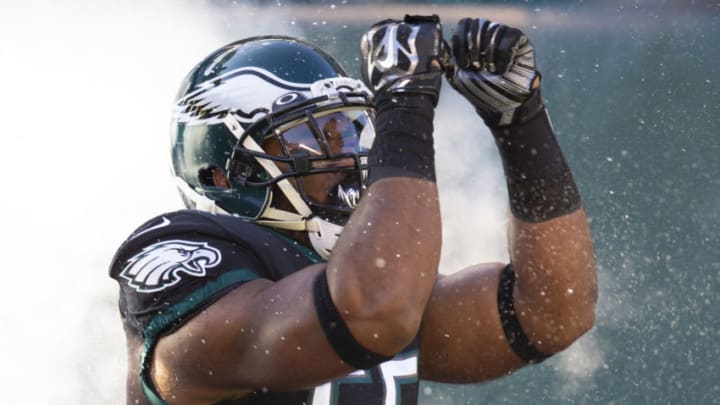 Brandon Graham #55, Philadelphia Eagles (Photo by Mitchell Leff/Getty Images) /
Deshawn McClease #33 of the Virginia Tech Hokies, Carlos Basham Jr. #9 of the Wake Forest Demon Deacons (Photo by Michael Shroyer/Getty Images) /
The Philadelphia Eagles and the Miami Hurricanes have come a long way from Jerome McDougle.
Don't be surprised if that "Turnover Chain" the Miami Hurricanes like to toss around finds it's way across the television thanks to something Quincy Roche does in 2020. He already has six forced fumbles and five fumble recoveries on his 35-game resume, so we know he can single-handedly shift a game's momentum.
Mentioning the Eagles and Hurricanes makes die-hard fans think of the late, great Jerome Brown. Unfortunately, it also makes them think of Jerome McDougle. Thankfully, Roche is no McDougle. Expect him to add to the 137 total tackles, 26 sacks, and six pass breakups he's accumulated for "The U" in three seasons, again if there is, indeed, a college football season in 2020.
In 36 career games with the Wake Forest Demon Deacons, Carlos Basham has already racked up 145 total tackles. That includes 77 solo stops and 31 tackles that have resulted in a loss of yardage. Those numbers will swell in 2020.
In addition to all of that, he's shown promise as both a solid run defender and a gifted pass rusher. He's also accumulated three forced fumbles, three fumble recoveries, seven pass breakups, and 14.5 sacks. He'll be on a lot of NFL radars come next April.