Philadelphia Eagles: 10 Possible replacements for Brandon Graham in 2021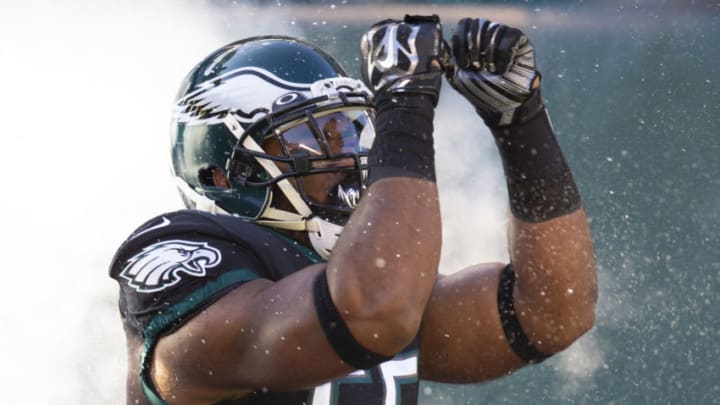 Brandon Graham #55, Philadelphia Eagles (Photo by Mitchell Leff/Getty Images) /
Gregory Rousseau #15 of the Miami Hurricanes (Photo by Mark Brown/Getty Images) /
If you're a Philadelphia Eagles fan, don't get sour on the Huskies yet.
These days, the Washington Huskies get looked at more often for what guys don't become than for what they accomplish. Philly's current roster boasts two of them, tight end Josh Perkins and cornerback Sidney Jones.
The former is probably going to make the team as Philly's third tight end. The latter is expected to compete for a starting spot at cornerback, but that isn't even close to what was expected of him when the Eagles drafted him in the second round of the 2017 NFL Draft,
None of that should be held against Joe Tryon. In his first two seasons (23 games), he racked up 61 total tackles and nine sacks, including eight in 2019. The 2020 season figures to be his last. Expect him to declare for the draft and be seen as one of the nation's top five defensive ends.
By the time the 2020 college football season is done, there's a lot that can change, but heading into the current campaign, the top name on everyone's list of defensive ends could, very well, be Gregory Rousseau. He's six-foot-six, and he tips the scales at 260 pounds, meaning he's about an inch taller and five pounds heavier than Jadeveon Clowney.
In 2019, his second on-field season with the Miami Hurricanes, he racked up 54 total tackles, 15.5 sacks, and two forced fumbles. If we see anything close to that in 2020, pro scouts and every one of the NFL's 32 teams are going to lose their minds. You can best believe his name will be on Philly's draft board. Whether or not they have any shot of landing him in next year's draft remains to be seen.