Philadelphia Eagles fans will love these Carhartt/'47 Brand crossover hats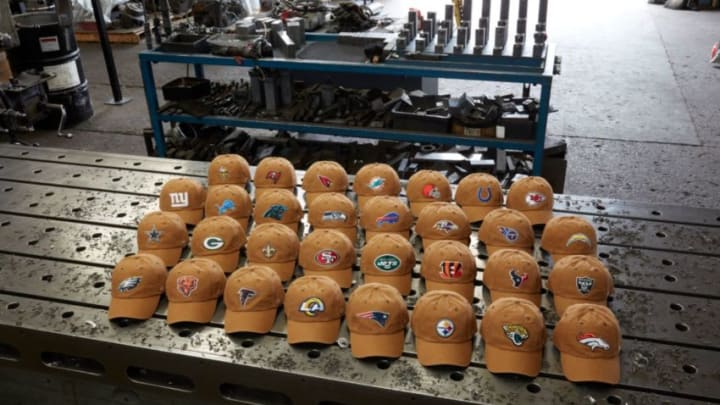 Carhartt /
A new Philadelphia Eagles season means a few things. More wins, more touchdowns, more fun… and the need for new gear.
And you don't need just any old gear. You need gear that's going to work just as hard as you do. Gear that's going to stand the test of time.
That's where our friends at Carhartt come in. They've teamed up with '47 Brand for a line of NFL logo hats and cuffed knit hats. They were kind enough to send me some, so I've spent the last few days enjoying some extremely nice looking and comfortable hats.
You can check out my experience with them below – or you can jump right over to Carhartt to shop for your team now. 
The first thing I noticed was how sturdy these hats were. You can certainly tell these are Carhartt hats – because the same quality that's in their standard apparel has made it into these hats.
And that makes sense, considering the two companies that have collaborated on these. As they said:
"Carhartt and '47/ Detroit and Boston. Two family-run companies, from two of the hardest working sports towns in American. This limited-edition collection celebrates the unbreakable bond that exists between the working man and his hometown team."
Carhartt /
On to the hats!
The "Clean Up" hat is in the durable cotton-canvas style that's become synonymous with Carhartt over the years. At first, you might think that would make the hat heavier or warmer, but I haven't found that to be the case. It was still very comfortable. The team logo is front and center, and the Carhartt logo is featured on the back. It is fully adjustable. You can order yours for $29.99. 
The "MVP" is what some might consider to be a trucker hat (with the back being mesh). It has a structured crown, which isn't my favorite thing when it comes to hats. However, that's because I have a… well…. big head. So the added space in the crown tends to make my dome look even bigger. So I was skeptical upon trying this one on.
I was pleasantly surprised to discover that it actually looked good on my helmet-sized head. The crown doesn't rise very much, so there's no 'Conehead' action here. Again, you'll find the team logo on the front and the Carhartt logo on the back. It is fully adjustable. You can order yours for $29.99 (coming soon).
The "Captain" is pretty similar to the "Clean Up." It comes in a team color instead of the canvas color, the placement of the Carhartt logo is on the right panel (instead of the back), and the crown is structured (like the "MVP"). It comes with an un-curved bill – if that's your thing. If not, you can curve it yourself. You can order yours for $34.99.
Finally, I was lucky enough to get my hands on a cuffed knit hat – perfect for the winter months that are looming ahead. You'll find a team logo on the front, a Carhartt logo on the back and you'll likely notice one thing as soon as you touch it – it's thick. This is made from 100% acrylic. It's soft, it looks good, and you're going to stay nice and warm no matter what Mother Nature throws at you this winter. You can order yours for $24.99.
We independently choose products and services we actually love and think you will too. This post contains affiliate links, where we may receive a percentage of any sale made from the links on this page. Prices and availability accurate as of the time of publication.