Doug Pederson answers questions about Carson Wentz's struggles
The Eagles' success relies on the play of Carson Wentz. He must be better.
By now, you're well aware of the result. The Philadelphia Eagles fell to the Los Angeles Rams in Week 2 of the 2020 season, and there are many reasons why. The defense deserves a portion of the blame. Carson Wentz shouldn't be excused for his poor play either.
In Week 2, '11' threw for 242 yards, and he tossed two interceptions, bringing his season total to four over the course of just two games. '11' only threw seven interceptions in 16 games last year. Oh yeah. There's a reason to be worried.
Here at ITI, we aren't calling for Hurts to start, and we still believe in Carson Wentz. Still, even with that being said, there's no denying Wentz has been playing poorly. He has a QBR of 27.9 which ranks him at 32nd among eligible quarterbacks. The only person he's bested has been Dwayne Haskins, who took the measure of the Eagles in Week 1.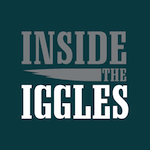 Want your voice heard? Join the Inside The Iggles team!
Write for us!
It's been tough for Eagles fans to watch this after the way he ended the 2019 season. Over Philly's final five regular-season games almost a year ago, Wentz averaged over 300 passing yards and two touchdowns per game. Eagles fans hoped that momentum would roll over to this season, but so far, it just hasn't happened.
So, how did Carson Wentz and the Eagles get here?
Last week against the Washington Football Team, the Eagles looked primed to win by a sizable margin until the game suddenly flipped in their rivals' favor. A Wentz pass intended for Jalen Reagor wound up in the hands of Fabian Moreau. As you know, the Eagles were up 17-0 before the giveaway, and Washington put up 27 straight points following the interception.
Week 2 told a similar story. The Eagles seemed to be out of the game after being down by 18 points early in the second quarter, but they fought back and looked to have a real shot to take the lead in the second half. That is until Wentz threw an interception in the endzone he intended to thread to JJ Arcega-Whiteside versus double coverage. The wind left Philly's sails, and they never recovered.
Doug Pederson discusses Carson Wentz's struggles.
Make no mistake, Darious Williams of the Rams made an excellent play on the ball, but Wentz's decision to throw that pass should be in question. The following Monday, Head Coach Doug Pederson made his customary appearance on SportsRadio 94 WIP's Morning Show with Angelo Cataldi.
Here's some of what he had to say.
I'll just say that that's a play that I think Carson would like to have back. (One) we'd all like to have back, and I think the execution of the play would be a little different. Those are one of those things that we can't do, we flat out can't do.
Pederson continued.
We can't put ourselves in that situation when we're coming out of the locker room. We just stopped them. We forced them to punt. We take the ball. I think we started on our 14-yard line and we're moving the ball down the field with a chance to score and go ahead in the game and who knows what happens after that, so for me, as the head coach, as bad as plays like that are, those are also teachable moments. Those are learning moments for us. I use the phrase a lot around here, pain instructs. And those are one of those painful moments that's going to instruct us and we're going to have to learn from that, coach that, teach that, and prepare our players that way.
After the turnover, the Rams went on a 16-3 run and put the game away for good. That's back to back weeks where a Carson Wentz interception killed the Eagles' momentum and allowed the opposing team to go on a run. As Coach said, that simply can't happen if the Philadelphia Eagles want to compete for a playoff spot.
Carson Wentz is a special talent, but he needs to turn things around. The bad news is that the Eagles are 0-2 and are last in the NFC East. The good news is that they get to play a struggling Bengals team next week that just let Baker Mayfield and Browns score 35 points. The 1-1 Dallas Cowboys play a white-hot Seattle Seahawks team in Week 2. It's a long season. We'll see what happens.