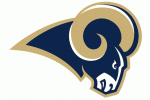 2. St. Louis Rams (from Washington)
Greg Robinson
Offensive Tackle, Auburn
Dave:
I believe this pick will be a trade candidate. Luckily, the Rams would still benefit if they can't find a suitor. Greg Robinson at two reminds me of when the Kansas City Chiefs took tackle Eric Fisher over Luke Joeckel last year. It'll be tough to say no to Robinson's ceiling, even if fellow prospect Jake Matthews is the more pro-ready prospect from day one. If not, Clemson wide receiver Sammy Watkins makes sense here.
Giorgos:
Assuming the St. Louis Rams won't trade out of this pick, they are going to pick Greg Robinson, Jake Matthews or Sammy Watkins. I like Matthews more, but Robinson has greater upside. Watkins is not out of the equation, but quality receivers will be around even in the fourth round. Robinson is a very athletic tackle and when you face the defense of Seattle, San Francisco and Arizona twice a year, you need to protect your quarterback more than anything else.