Philadelphia Eagles fans continue to celebrate team's first Super Bowl win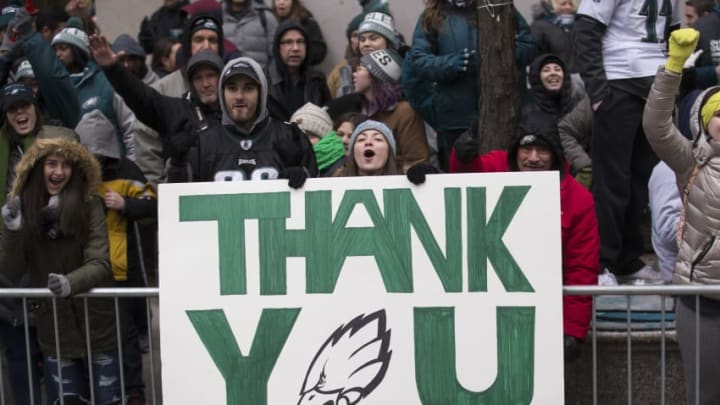 PHILADELPHIA, PA - FEBRUARY 08: Philadelphia Eagles fans celebrate during the Super Bowl LII parade on February 8, 2018 in Philadelphia, Pennsylvania. (Photo by Mitchell Leff/Getty Images) /
The euphoria that has taken over the Philadelphia Eagles following their first Super Bowl win has yet to wear off.
It seems as though it was a long time ago, and, at the same time, it feels as though it was only yesterday. The Philadelphia Eagles' reign as Super Bowl Champions isn't quite two months old, but as of March 25th, we have officially hit the seven-week mark. Eagles fans are still celebrating the first Lombardi Trophy in team history.
Frankly, if you love this team, no one's gotten tired of it, nor can they stop talking about it. Look no further than Twitter for a party that isn't anywhere close to slowing down.
Take a look at some of the highlights:
https://twitter.com/NoPhlyZone5/status/977362846416809984
We try to be as fair and as impartial at ITI as we can, but who are we kidding? We're fans as well. We even got into the act.
Here's our contribution to the party:
Will it ever end?
Yes, it's true. No fan will ever forget where he or she watched they game. They'll never forget the feeling they had during any of the Eagles' five touchdowns, nor will they ever forget the feeling of seeing Tom Brady's final pass attempt fall harmlessly to the turf.
There were so many marvelous moments.
There was Alshon Jeffery's pirouette in mid-air that started the Eagles' touchdown barrage. That was followed by LeGarrette Blount's 21-yard touchdown dash and Corey Clement's catch in the back of the end zone. Still, as great as all of that was, both of those moments may pale in comparison to 'The Philly Special', Zach Ertz's touchdown dive to give the Eagles the lead, and the strip of Tom Brady by Eagles defensive end Brandon Graham.
Even seven weeks later, it still brings a smile to the face, doesn't it?
Here are more of the great tweets from some of the members of the Eagles Nation:
Oh, and what about that 'Wheel of Fortune' moment?
What an awesome night it was. What an off-season it's been. Now, it's time to go win another one.