Philadelphia Eagles are shown love by EA Sports and Madden 20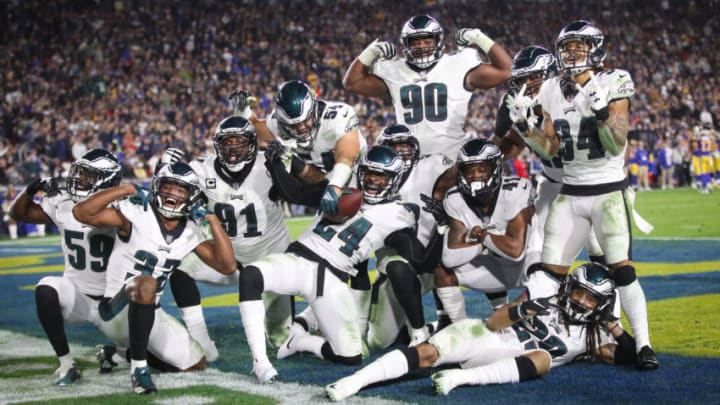 LOS ANGELES, CA - DECEMBER 16: Philadelphia Eagles react after a fumble recovery in the third quarter against the Los Angeles Rams at Los Angeles Memorial Coliseum on December 16, 2018 in Los Angeles, California. (Photo by Sean M. Haffey/Getty Images) /
EA Sports Madden franchise is just as excited about the Philadelphia Eagles roster as some of the fans. 'The Birds' have the highest rating of any team on the game.
Gamers of all ages are preparing for the release of EA Sports' Madden 20. Football season is approaching, and that means everyone's excited about how their favorite players and teams rank. We're starting to get an idea of how things shape up as we've now got some team rankings to talk about, and if you're a Philadelphia Eagles fan, you may be happy with the result.
EA's been releasing their rankings, and 'The Birds' are the highest rated team on the game. It's a fact that isn't lost on the Eagles themselves.
Oh, you don't believe that a professional NFL Franchise can get charged up about this type of stuff? Well, take a look for yourself.
Here's how the top ten rounded out. The two teams most of us believe will battle it out for NFC East superiority, the Eagles and Dallas Cowboys, top the list. Philly earns an 89. Dallas gets an 88. The New Orleans Saints, New England Patriots, and Green Bay Packers all earn an 87.
Teams six through ten are all listed as follows:
The Atlanta Falcons get an 86, as do the Indianapolis Colts. 85 is given to both the Los Angeles Rams and Los Angeles Chargers. The Pittsburgh Steelers round out the top ten with an 84.
Eagles fans might still be a little perturbed by their franchise quarterback, Carson Wentz's rating. Yes, he was snubbed recently, but seeing EA show love to their roster as a whole might take some of the edge off, even if it only does so slightly.
Ladies and gentlemen, we're this close to football season, but that also means it's Madden season. Pull up a chair. Kick your feet up and enjoy. We've lost count of how many NFL fans and video game fanatics have done so to this point of this franchise's history.