Two former Philadelphia Eagles recently left on a high note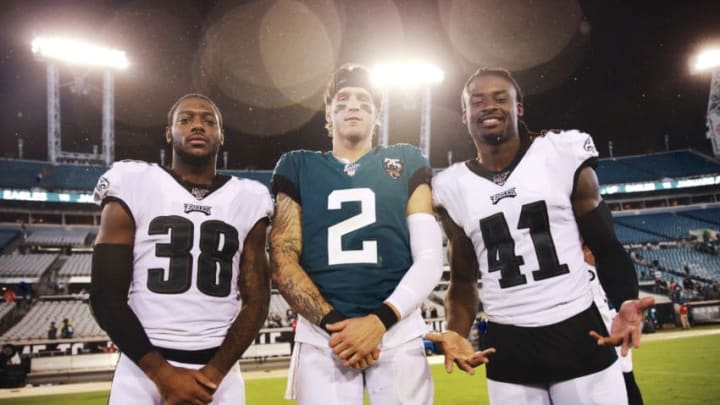 JACKSONVILLE, FLORIDA - AUGUST 15: Quarterback Alex McGough #2 of the Jacksonville Jaguars poses with Jeremiah McKinnon #38 and Johnathan Cyprien #41 of the Philadelphia Eagles after the game at TIAA Bank Field on August 15, 2019 in Jacksonville, Florida. (Photo by Harry Aaron/Getty Images) /
The Philadelphia Eagles recently got rid of two players, who had nothing but good things to say about the team.
Fifty-three players on a roster seems like a lot. Even though the Philadelphia Eagles may never get the opportunity to utilize all 53 guys throughout the year, it still feels like there's never enough room on the team. Considering that depth matters — especially on an injury-riddled team like Philly — some tough cuts or trades need to be made at times.
Recently, the Eagles got rid of not one, but two players that they signed during the offseason. At the time, these two signings seemed a bit significant. In the end, though, the situation just didn't pan out the way the front office initially thought it would.
Over the weekend, the Eagles needed to bring on some secondary help by signing veteran cornerback, Orlando Scandrick. In order to get Scandrick on board though, the Eagles needed to make a cut. Therefore, veteran linebacker L.J. Fort became the odd man out.
During the offseason, it felt like Fort would be a guy who could garner some rotational reps on the defense throughout the year — but after four weeks, Fort was nothing more than a special teams piece. And with Kamu Grugier-Hill back in the mix, Fort was no longer needed. Not for that price he was getting paid, at least.
The Eagles decided to cut Fort but looked elsewhere for a replacement. As the Atlanta Falcons needed a safety, Philly's front office figured they could benefit from an in-season trade by sending Johnathan Cyprien to Atlanta in exchange for a late-round pick and linebacker, Duke Riley.
Just like that, Fort and Cyprien were no longer a part of the Philadelphia Eagles. Typically, players tend to feel slighted over getting traded or released from their team — but Fort and Cyprien surprisingly had nothing but great things to say about the Eagles.
Fort and Cyprien echoed the same sentiment
When L.J. Fort heard the news he would be moving on from Philly, he took to Twitter to voice his pleasure with the organization and the city. "Philly it has been a pleasure," Fort wrote. "First class orginization." Just a couple of days after Fort's release, Cyprien was traded.
To no surprise, Cyprien's farewell to Philly was quite similar to Fort's. "Our time was short, but one I'll never forget," Cyprien tweeted out on Monday. "First class organization, a bright future, and teammates that treated me like family. Last but not least,  I can't forget the fans here in Philly. Thank you." Clearly, the Eagles got it right within the locker room this year.