10 NCAA prospects Philadelphia Eagles can pair with DeSean Jackson
It's never too early to do some scouting in the NFL. Here are ten NCAA receivers that would give the Philadelphia Eagles a nice compliment to DeSean Jackson in 2020.
It's been a long time since DeSean Jackson played NCAA football. '10' isn't getting any younger. Recently,, he's had surgery. He'll have a full offseason to rest, and when 2020 opens, he'll once again be a part of the Philadelphia Eagles' plans for what they want to do on offense. His contract is guaranteed, as is that of Alshon Jeffery's, but the latter will have some work to do to work his way back into the good graces of the fans. For the former, that's never been an issue.
For '10', it's been rough. 'Father Time' has been hanging around as a part of Jackson's entourage for quite some time now. No one is immune to aging and those nagging aches and pains that come when someone gets older, but at some point, you have to hope the injuries slow down for '10'.
He hasn't played a full NFL season since 2013, and the 13 games that he missed in 2019 (that's 14 games if you include the Wild Card Game) are the most that he's missed in his 12-year career.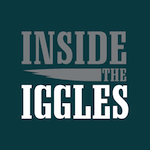 Want your voice heard? Join the Inside The Iggles team!
Write for us!
No one knows more than Eagles fans about how high his ceiling is when he's healthy, and if he's paired with one of these potential future NFL stars, it won't just extend his shelf life. It may free him up for more moments like the ones we saw in Week 1 of 2019's season. Let's do some homework.