Dak Prescott's tender is great news for Philadelphia Eagles fans
Philadelphia Eagles fans have to love what's happening in Dallas.
Not since the Philadelphia Eagles took a tight end from North Dakota who actually played his college ball for the South Dakota State Jackrabbits has the name "Dallas" sounded so good. The disdain that exists between "Birds" and Dallas Cowboys fans runs so deep that when this proud franchise took their young tight end 49th overall, there were jokes that Dallas needed to change his name to "Philly".
Every once in a while, there are things that happen in "Big D"s that can force a smile across an Eagles fan's face. Not only is Jerry Jones still around, but there was also the hiring of Mike McCarthy this offseason.
One is a brilliant owner who clearly loves his team, but he's a questionable general manager that seems to have a history of meddling and making things hard on his beloved franchise. The other has seen some success as an NFL head coach, but it's been a while since he's seen what was probably his coaching prime. His hiring wasn't seen as a slam dunk by anyone. Plus, he'll never be placed into a position to succeed with an owner walking around who wants the credit for everything good that happens to his football team.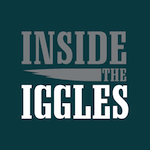 Want your voice heard? Join the Inside The Iggles team!
Write for us!
Giving Ezekiel Elliott a deal that will pay him to much money for too many years is another head-scratcher. He's had success in the NFL and a lot of success versus the "Birds", but he seems to be nearing a decline already (he does play the game's most punishing position). Don't be surprised if, sooner rather than later, we may all bear witness to a situation the Eagles are currently experiencing with Alshon Jeffery, one where the team is held hostage by a contract they can't get out of and a guy that's eating up a lot of cap space but clearly not the guy that he once was.
Then, there's the most recent development out of Dallas, one Eagles fans might find to be both appealing and a reason to smile.
Does a recent move in Dallas ensure long-term success for the Philadelphia Eagles over the Cowboys?
According to a report by a report by ESPN's Adam Schefter, Dak Prescott plans to sign a franchise tender with the Cowboys on June 22nd. The report has since been confirmed by the NFL Network's Jane Slater and several other sources.
Word has it that Prescott will make $31.4 million, and as Schefter added later, the deal also means Dak must report to Cowboys training camp on time. It isn't often that a team can find joy with one's rival signing their star quarterback to any deal that keeps him in the fold, but in a world where Dak Prescott and Carson Wentz comparisons are made frequently, regardless of what side of the fence you sit on, two things can't be denied after last season.
One, both have formerly had near-MVP seasons, but in 2019, while Wentz has proven that he can win with the deck stacked against him, Dak doesn't guarantee wins when the deck is stacked in his favor. Second, Dak may never be Drew Brees or Patrick Mahomes, but he isn't Mitch Trubisky either.
He has talent, but when all things are considered, something might be obvious. An Elliott contract that the Cowboys will regret later, Jones still carrying the G.M. mantle, McCarthy on the sideline, and with the plan seemingly to sign Dak Prescott to a long-term deal, we may be on the verge of seeing long-term dominance established by the Eagles over the rival Cowboys. No "Birds" fan will complain if that happens.