Reasons for the Eagles enjoying a faster start than seen in years past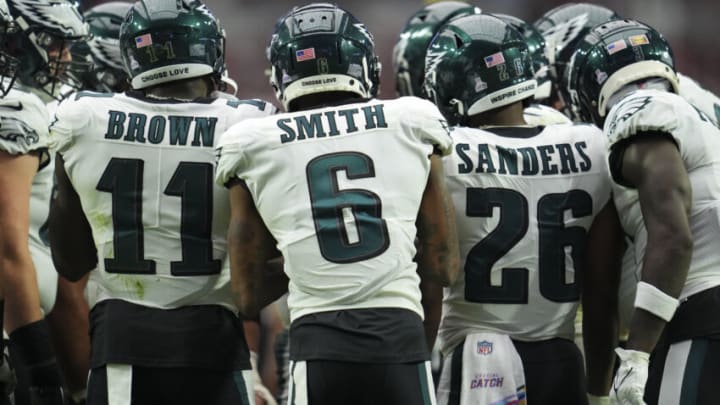 A.J. Brown, #11, Devonta Smith, #6, Miles Sanders, #26, Philadelphia Eagles (Photo by Cooper Neill/Getty Images) /
The 2022 Eagles look nothing like the team we watched last season.
The Philadelphia Eagles' undefeated train keeps rolling along as they defeated their NFC East division rival, the Dallas Cowboys, on Sunday Night Football to push their record to 6-0. Now, Philly has a chance to rest up and get healthier in Week 7 before moving on to the Pittsburgh Steelers in Week 8.
The first seven weeks of the 2021 season were a different story as they limped to a 2-5 start. Truthfully, this team has become accustomed to fast starts. Last year, Dallas had all the fun at the top of the NFC East's standings. There was a bright spot. Philly was scoring, averaging 22.8 points per game through those first seven contests.
Hope sprang eternal that things would improve this time around. It most certainly did. Yes, Philadelphia has upped their offensive production as this season they average 26.8 points per game. The addition of wide receiver A. J. Brown has helped elevate this offense. Philly has hit another gear. They aren't just a running team anymore. Opposing defenses are on notice.
The Eagles' defenders had a hard time stopping opponents from scoring through six weeks in 2021. They gave up an average of 25.3 points per game.
It's been quite the turnaround for this defense this year, as they only allowed an average of 17.5 points per game this season. That's one reason for the turnaround. What follows are three more. These are the improvements that transformed an average team that improved to one of the top-tier teams this time around.