See how the Eagles came up with electric slide celebration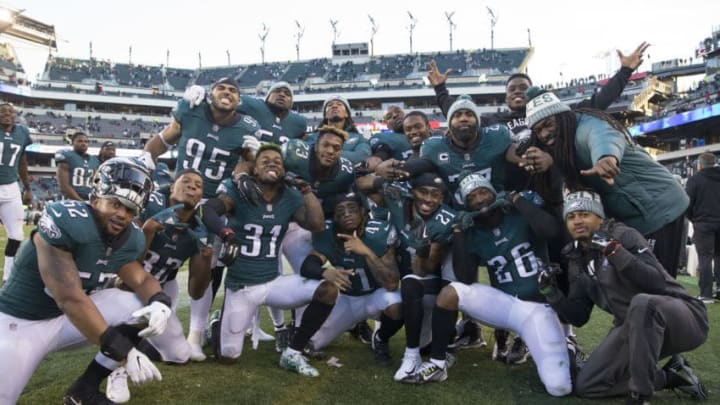 PHILADELPHIA, PA - NOVEMBER 26: Members of the Philadelphia Eagles defense pose for a picture in the final minutes of the game against the Chicago Bears at Lincoln Financial Field on November 26, 2017 in Philadelphia, Pennsylvania. The Eagles defeated the Bears 31-3. (Photo by Mitchell Leff/Getty Images) /
The Philadelphia Eagles celebrated with style in their blowout win over the Chicago Bears.
The Philadelphia Eagles may currently be the hottest team in the NFL. Obviously, their record is what indicates that. But they are also the hottest team when it comes to team celebrations during the game. It all started back in Week Five when they played the Arizona Cardinals. Eagles quarterback, Carson Wentz completed a long touchdown pass to Torrey Smith, which set up a "home-run" team celebration in the end zone.
Plenty of teams around the NFL have been coming up with some creative celebrations this season. Since NFL Commissioner, Roger Goodell lightened up on punishing celebrations, NFL games have gotten a lot more entertaining. It is especially entertaining if your favorite team is currently 10-1 and on their way to winning the division.
Did you ever wonder how these celebrations are created, though? Like, how much time goes into rehearsing and what exactly inspired that specific celebration? Well luckily, the Eagles had cornerback, Jalen Mills mic'd up this week and we found out how the famous electric slide celebration came to life.
Slidin' from the sideline…
It's electric!!!
When the Eagles defensive back's first broke out in the celebration, it looked like they have been planning it for a week or so. It's pretty impressive to find out that they thought of the celebration on the sidelines earlier in the game. For having no practice prior to the dance, they looked pretty in sync. Unfortunately, the original interception that set the celebration off did not stand. Fortunately, they snagged another one just a couple of plays later.
Next: Eagles QB Carson Wentz has Lebron James for a fan
Man, this Eagles team is fun, isn't it?  It's good to see that a team can win big during games while having fun in the process. It is sure starting to look like the "No Fun League" is starting to turn things around with all of the in-game celebrations going on. After all, it is just a game at the end of the day. Keep on partying, Eagles!