The Eagles will officially be heading to London in 2018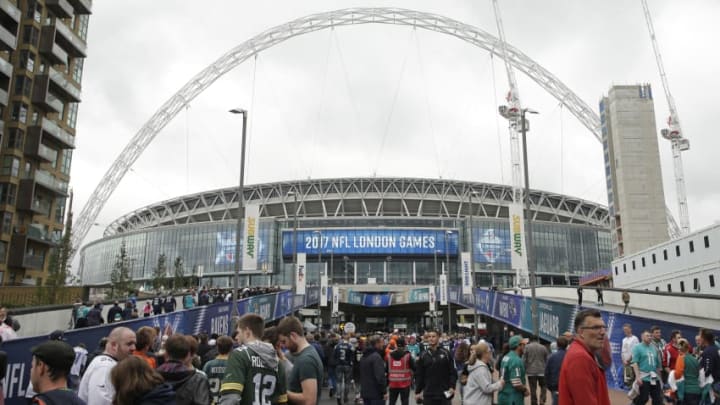 LONDON, ENGLAND - OCTOBER 01: Fans arrive at the stadium prior to kickoff the NFL game between the Miami Dolphins and the New Orleans Saints at Wembley Stadium on October 1, 2017 in London, England. (Photo by Henry Browne/Getty Images) /
Instead of playing in Jacksonville, the Philadelphia Eagles are playing in London next season.
Get your passports ready Philadelphia Eagles' fans! Because we're heading to London! Yes, after plenty of speculation, the Eagles will officially play the Jacksonville Jaguars at Wembley Stadium in London. While the Jaguars are familiar with the far away game, this will be the first time ever that the Eagles play outside of the United States.
Fortunately for the Eagles, they will not lose a home game next season. They will still have all eight home games held at Lincoln Financial Field. So for those of you who are season ticket holders, you can let out a deep breathe and be excited that you will not lose out on a home game for next season.
Since the NFL has not yet officially issued the schedules for next season, we don't have a set time or date for the game yet. At this time, all we know is that the game will be held at the famous Wembley Stadium, per usual.
Taking on the Jags!
For the first time since the 2014 season, the Eagles will take on the Jaguars. For those who don't remember, the Eagles ended up coming back from a 17-point deficit to win 34-17. At the time, the team was led by former and now current Eagles' quarterback, Nick Foles.
Next season's London matchup should be a good one. Considering both teams were heavy playoff contenders this year, it could potentially be one of the better games that have been held in London in recent memory. There have been plenty of disappointing matchups as of late and the Eagles versus Jaguars could be a very entertaining one in 2018.
Next: Ric Flair throws shade at the Eagles
Although the game will be held at a neutral stadium, the Jaguars may have the slight advantage. Since 2013, the Jaguars have been involved in the NFL London series every season. They are currently 3-2 while playing in London over the past five years. Let's hope the Eagles can turn that winning record into .500 in what should be a very solid matchup.