Philadelphia Eagles talk: Kevin Hart's prediction, Mark Wahlberg's theory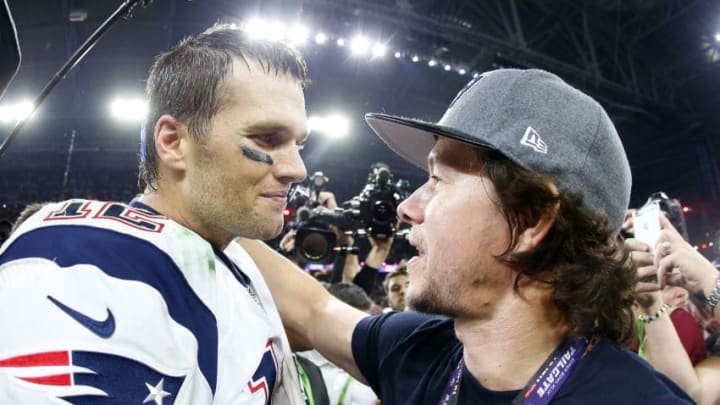 GLENDALE, AZ - FEBRUARY 01: Tom Brady /
Mark Wahlberg is a die-hard Patriots fan, but he also won't split too many hairs if the Philadelphia Eagles pull out a victory in Super Bowl LII.
It's been long known that the New England Patriots and every other Boston-based sports team has some pretty famous fans. One of which is actor and producer Mark Wahlberg. He was born in Dorchester in Boston Massachusetts. As fate would have it, he was also cast to play the role former Philadelphia Eagles wide receiver and special teams player Vince Papale. That opportunity came in the 2006 Disney release, Invincible.
According to Wahlberg, if the Patriots were to lose against anyone, Philly might be the only team that could beat his guys in the Super Bowl without him minding. Several days ago, Kevin Hart, a Philadelphia native and lifelong Eagles fan, offered his own prediction about Super Bowl LII's final score. According to him, fans can expect an almost 80-point victory by 'The Birds' over Tom Brady, Bill Belichick and company.
Wahlberg's final score prediction might not be as one-sided as Hart's. Still, he sees an easy victory for his favorite team as well. He expects the Patriots to win by 17. When, he thinks about it however, he also said he wouldn't mind if the Eagles found a way to pull out a victory against the guys from Foxborough.
Related Story: Eagles talk: Staying loose, Jalen Mills discusses Tom Brady
Check out this tweet from NBC10 sports anchor and Eagles GamePlan host John Clark.
Based on the margins of victory that both of these guys came up with, here's a theory. It's probably a good thing that neither's employment is based on prognostication or sports analysis. Both appear to have their own desires in mind. That's totally okay though. Super Bowl LII will be an emotional game, particularly for Eagles fans. For Wahlberg, it's equally so but for a different reason. He's forever tied to both teams.
On February 4th, however, every Eagles fan is hoping he goes home with the consolation prize.