Philadelphia Eagles' flight officially touches down in Minneapolis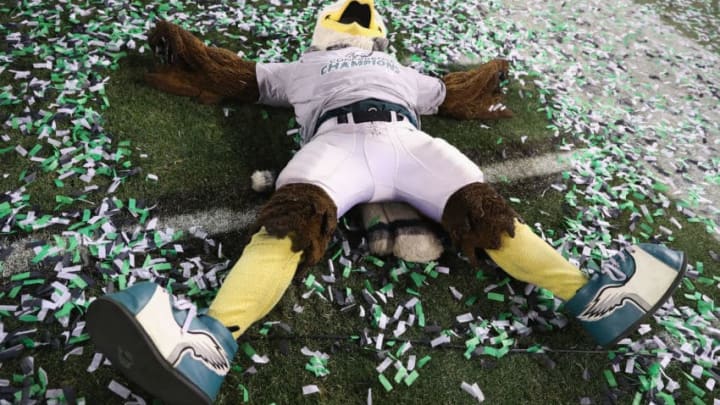 PHILADELPHIA, PA - JANUARY 21: The Philadelphia Eagles mascot makes a snow angel in the confetti after the Philadelphia Eagles defeated the Minnesota Vikings in the NFC Championship game at Lincoln Financial Field on January 21, 2018 in Philadelphia, Pennsylvania.The Philadelphia Eagles defeated the Minnesota Vikings 38-7. (Photo by Abbie Parr/Getty Images) /
Well, they're all safe and sound, and everyone's accounted for. The Philadelphia Eagles have made it to Minneapolis, Minnesota safely.
January 28th was a long day for the Philadelphia Eagles, but you won't get anyone to complain about that though. After, a heartfelt send-off by both Eagles insider Dave Spadaro and those loyal Philly fans, the next step was a flight. Not too long after 'The Birds' touched down in Minneapolis–Saint Paul International Airport.
They let fans know via their official Twitter page, and fans spread the word pretty quickly with quite a few retweets.
Take a look.
Minneapolis will serve as home to 'The Birds' for the next eight days.
More from Inside the Iggles
Some of the Eagles players and coaches have described being in the Super Bowl by everything from calling the feeling surreal to stating that things just haven't sunk in yet. Well, they're sure to do so now. With all of the media attention that this team is about to receive, players, fans and just about everybody else will be sick of  hearing about the game by the time kickoff rolls around at 6:30 PM EST on February 4th.
The temperature at about 5:00 PM EST in Minneapolis on January 28th was around 17 degrees fahrenheit , but Philly won't have to worry about that. They'll be playing indoors at Minnesota's beautiful monument to football, U.S. Bank Stadium. Until then, they'll be making their home at the Radisson Blu at Mall of America.
Next: Kevin Hart's prediction, Mark Wahlberg's theory
For the uninitiated, this is Philly's third Super Bowl appearance and the first time the Mini Apple (bet a lot of you have never heard it called that) has hosted a Super Bowl in over 26 years when, on January 26th, 1992, they hosted Super Bowl XXVI in the Hubert H. Humphrey Metrodome.
Yes ladies and gentlemen, we're one step closer to the game.