Philadelphia Eagles: Will cap restraints prevent another Super Bowl run?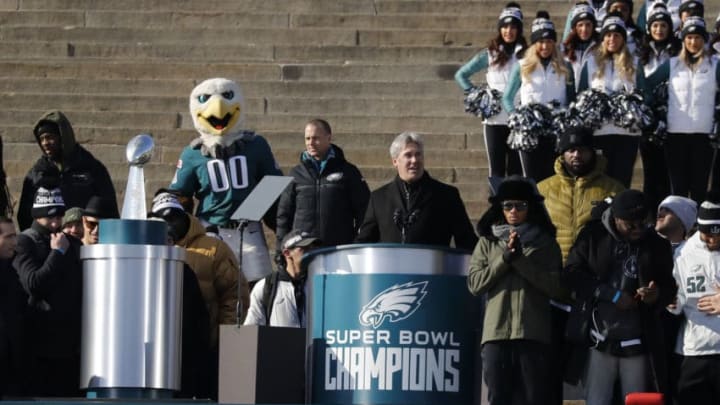 Doug Pederson (Photo by Aaron P. Bernstein/Getty Images) /
Might the salary cap play a large role in determining whether or not the Philadelphia Eagles reach the Super Bowl next season?
Repeating as the Super Bowl Champions is hard in the NFL. Perhaps keeping a team together is even harder. That's yet another reason to both celebrate what the Philadelphia Eagles did in their most recent season and marvel at what executive vice president of football operations Howie Roseman was able to do with the salary cap. The days of a team like the Buffalo Bills of the mid-nineties being that good and staying together that long are over.
We'd all be missing the mark if we were unable to express the importance of Roseman waving his magic wand and doing what he did with the salary cap restraints of a season ago again in 2018. The Eagles have a lot of personnel decisions to make. Unfortunately, they don't have a ton of cash to work with. Thanks to the league's desire to help create parity by limiting how much teams can spend on salary, the Eagles current payroll costs are around $187.3 million. That means they're already over the cap by almost $9.5 million.
Don't panic yet.
Philadelphia Eagles /
Philadelphia Eagles
Here's good news and bad news. The bad news, if you want to call it that, is every member of the Eagles championship team won't be here when the 2018 season kicks off. Two assistant coaches are gone on offense. A few key contributors on both sides of the ball have the potential to be gone as well. That isn't completely maddening because that's par for the course in today's NFL.
If the Eagles want to add talent, they're going to have to shave some people first just to be able to make some financial dealings.
We mentioned that there was good news however, and here it is. Philadelphia doesn't have to renegotiate that many people. 19 of the 22 starters from last season's Super Bowl roster will return for the 2018 season. You're already aware of the depth the we've learned this team possesses.
Better days are ahead.
Philly seems set up for yet another championship run. They're definitely a team that seems built for the long-term. This isn't a team that cashed in on a ton of aging free agents who only have a few years left. This is a healthy mix of homegrown talent and veterans. The Eagles are set up to win and win for a while.
Next: So what is this RFID anyway?
Now, other teams like the Los Angeles Rams, the New Orleans Saints, the Atlanta Falcons, the Minnesota Vikings and the Green Bay Packers are all going to have their say in how things go in the NFC for a while. Make no mistake though. Philly is just as good or better than those teams. This unit will be relevant for a while.
We'll see what Roseman has up his sleeve this time.