Philadelphia Eagles OTAs: DeVaunte Bausby's making a name for himself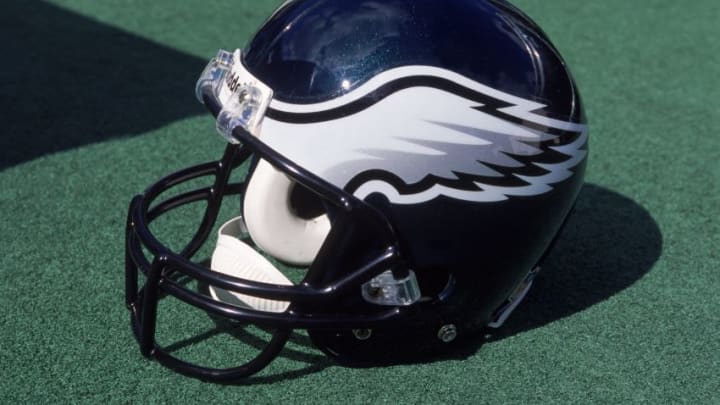 Philadelphia Eagles. Mandatory Credit: Doug Pensinger /Allsport /
Don't look now, but DeVaunte Bausby is doing everything he can to make the Philadelphia Eagles' roster.
Start getting familiar with the name DeVaunte Bausby. This youngster is doing everything he can to make the Philadelphia Eagles' 53-man roster. With the new NFL rule, teams can carry 90 men throughout the preseason. Coaches have a lot of guys to get to know.
Bausby is apparently distancing himself from the large list of names that may end up on the waiver wire, and people are starting to pay attention.
What are the experts saying? We're glad you asked.
For more on this growing phenomenon, let's get some additional analysis. Here's some of what Brandon Lee Gowton had to say over at Bleeding Green Nation:
"One of my biggest takeaways from Tuesday's practice is that De'Vante Bausby is legitimately a name to watch this offseason. The 25-year-old cornerback first stood out in last week's OTA practice and he followed that up with another strong outing today. Bausby lined up as the Eagles' first team nickel corner and did a nice job of covering Nelson Agholor at times. He made a leaping pass breakup on a Nick Foles throw to Agholor over the middle of the field. He also had tight coverage on a number of plays."
Even before Philly took the field for Tuesday's practice, his defensive coordinator, Jim Schwartz, was already saying good things about him.
Here's some of what 'The General' said in his Tuesday morning presser:
"He's a competitive player. He did a really good job for us on the scout teams last year. He was ready to play for us last year if need be. He did a great job not just on the practice field but in the meeting room, being up on the game plan… He's got good size, but his competitiveness stands out. You guys will see that… He worked the offense hard last year. I think those guys have respect for him. I know our coaches have respect for him."
The official team site cosigns.
Do you still need convincing? The Eagles' official team website found the need to mention him in their practice notes from Tuesday.
Try this on for size:
"DeVaunte Bausby, who was the receiver of some praise from Jim Schwartz on Tuesday morning, got an impressive pass breakup in the middle of the field on a pass thrown by Nick Foles. Bausby saw time with the first-team nickel defense in Tuesday's session."
This is exactly why you keep hearing phrases like 'create competition' and 'we're still putting a roster together'. Might Bausby be this year's version of Corey Clement or Paul Turner? Obviously, it's too early to tell, but he's off to a good start.