Philadelphia Eagles: A Super Bowl win causes a baby boom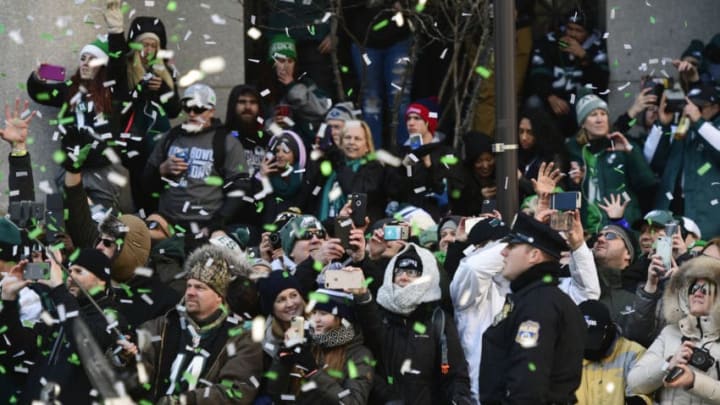 PHILADELPHIA, PA - FEBRUARY 08: Eagles fans watch busses carrying the Philadelphia Eagles team pass by during festivities on February 8, 2018 in Philadelphia, Pennsylvania. The city celebrated the Philadelphia Eagles' Super Bowl LII championship with a victory parade. (Photo by Corey Perrine/Getty Images) /
Nine months after the Philadelphia Eagles' delivered the first Super Bowl win in franchise history, there have been deliveries of another kind in the 'City of Brotherly Love'.
The love of a football team unites all types of people. Men and women of different religions backgrounds, races and upbringings can all come together because of their love for a particular franchise. Just look at the Philadelphia Eagles' fan base.
The beauty of Eagles fans is the fact that there are so many different types of them.
Almost nine months ago, the Eagles won their first-ever Super Bowl title, and almost immediately, the diversity of Philly's fan base was on display again, in the way they celebrated said title.
Some climbed greasy poles. Some shot fireworks. Others attended the parade or got arrested for getting a little out of hand. Others still found, well, other ways to throw a party.
Here we are, just nine months later, and it appears another generation of Eagles fans are being birthed, right around that October-to-November range. Anyone want to take a guess on why that is?
Here's the story from CBS Philly:
Video courtesy of CBS Philly's official YouTube page
As stated in the story, cities don't always experience 'baby booms' right after a title, but this is the 'City of Brotherly Love' we're discussing. Come on, we're talking about Eagles fans. There isn't a single one of them that hasn't waited on this moment for their entire lives.
'The Birds' climbed to the mountaintop. They did so with their backup quarterback, and they laid the smack down on what may be the greatest dynasty in the history of sports to do so.
Honestly, is there anyone who's surprised by this story?
So far, there's been no word on whether or not many of these families are naming their sons 'Carson' or 'Nick', but we haven't really compiled any real stats either. We'll have to wait and see what happens.