Philadelphia Eagles roundup: Nnamdi Asomugah returning to Philly?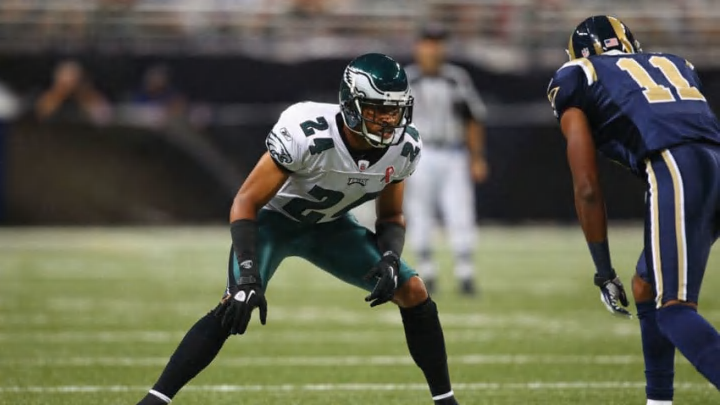 ST. LOUIS - SEPTEMBER 11: Nnamdi Asomugha #24 of the Philadelphia Eagles defends against the St. Louis Rams at the Edward Jones Dome on September 11, 2011 in St. Louis, Missouri. (Photo by Dilip Vishwanat/Getty Images) /
Ladies and gentlemen, former Philadelphia Eagles cornerback Nnamdi Asomugha is returning to Philly. Don't worry. He'll only be here for an event.
Ladies and gentlemen, former Philadelphia Eagles cornerback Nnamdi Asomugha is returning to the 'City of Brotherly Love'. No, this isn't a late April Fool's Day joke, and no, his return won't have anything to do with 'The Birds'. He'll be there for an event.
It would have been fun to make a joke out of this, but we're well aware of what the sound of that name or seeing it does to certain fans. We wouldn't want to put anyone through any unnecessary aggravation. Let's talk football.
Asomugha's two seasons in Philly are widely remembered as being a bust. To be honest, there may have been free agent acquisitions that were worse in this town, but whenever you bring up Mr. Asomugha, it can be easy to understand if someone might have a hard time remembering who they were.
In 2011, Asomugha rode into Philly like a conquering hero, and why not? He was a three-time Pro Bowl selection (2008–2010), a two-time First-team All-Pro (2008, 2010), and a two-time Second-team All-Pro (2006, 2009). He was even a role model off of the field, constantly being praised for his charitable efforts and philanthropy and even winning the "Whizzer" White NFL Man of the Year award in 2009.
NFL players are mostly remembered for what they did with a jersey on however, and though, for most of his career, he was rarely challenged, all of the tape that everyone saw that made him the top free agent on the market in 2011 never translated over to success in Philly. Opposing quarterbacks rarely threw in his direction. When they did, it led to minimal results.
Asomugha would earn Pro Bowl honors again following the 2011 season (he'd be named an alternate), but mostly he's remembered for being beaten a lot, failing to endear himself to teammates (rumor has it he'd eat alone in his car), and most importantly, and whether fair or unfair, being seen as one of the main reasons the team struggled to a 12-20 record over the time that he was in town.
On April 13th, he'll be a guest of Bill and Hillary Clinton's as they're hosting one of several 'conversations' where the two will be sitting down with interesting people from various walks of life.
Here's the schedule:
Two years in Philly was followed by one forgettable season with the San Francisco 49ers. Since his retirement, Asomugha's been cutting his teeth in Hollywood.
He's won the Audience Award for a U.S. Dramatic Film after producing and starring in the Amazon Studios film Crown Heights. He's also made appearances in Friday Night Lights, The Game, and he's even starred in Fire with Fire alongside Bruce Willis, Rosario Dawson and Josh Duhamel among other things.
Life after football hasn't been bad at all for Mr. Asomugha. To be honest, we can't wait to hear what this conversation with the Clintons will be about.