Philadelphia Eagles 2019 NFL Draft watch: CB Byron Murphy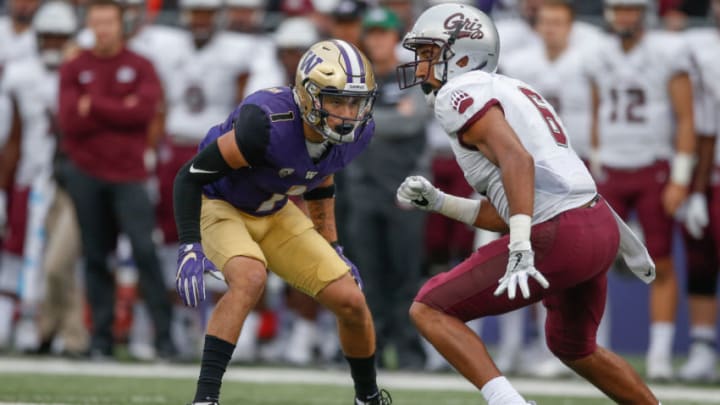 SEATTLE, WA - SEPTEMBER 09: Defensive back Byron Murphy #1 of the Washington Huskies defends against wide receiver Keenan Curran #6 of the Montana Grizzlies at Husky Stadium on September 9, 2017 in Seattle, Washington. (Photo by Otto Greule Jr/Getty Images) /
Several 2019 NFL Draft mocks have linked cornerback Byron Murphy to the Philadelphia Eagles. Let's see what the former Washington standout has to offer.
Ladies and gentlemen, let's talk a little 2019 NFL Draft and Byron Murphy. It seems inevitable. What the relationship is between the Philadelphia Eagles and several college programs is hard to determine, but here's what we do know.
For whatever reason, over the past couple of seasons, we keep bringing up guys from the West Virginia Mountaineers program (there are several of them on the current roster), and we keep mentioning the Washington Huskies.
Philly's last cornerback addition from the Huskies program, Sidney Jones, still has a grade of incomplete, but the Eagles are, again, approaching the annual selection meeting and they're in the market for defensive back help. One of the best at that position is the five-foot-eleven, 190-pound Murphy, who just happens to hail from you know where.
In his draft profile, Lance Zierlein of NFL.com compares him to Brent Grimes and had this to say:
"Ball-hawking man corner who makes up for a lack of physical tools with outstanding instincts, toughness, and short-area quickness. Murphy's ball production per target is as good as you will find thanks to an innate ability to process the quarterback and route development simultaneously. His long speed is below average and will panic and start grabbing when he ends up in an unexpected trail position. His short-area twitch and run support toughness could make him an early target for teams looking for help at the nickel."
Murphy earned First-team All-Pac-12 honors following the 2018 season where he racked up 58 tackles (37 were solo and four resulted in a loss of yardage), four interceptions (one was taken back for six), a forced fumble and 13 batted balls.
Pro Football Focus says he's worthy of a top-ten pick, but several NFL scouts believe he'll be available when the Eagles make their selection at pick 25.
Check this out:
Clip courtesy of PFF's official YouTube channel
So here we are. Whether Philly's willing to trade up for Murphy or not remains unclear. We do understand that there's some interest. Many agree 'The Birds' will go with the 'best player available approach. If that's the case, a corner who has a chance to be a factor in influencing what opposing teams are doing on every play could be what the doctor orders on draft day.
This isn't an exact science though. Philly's still scouting. Everyone's still doing their homework. We'll have to wait and see what happens. Time is winding down.