Philadelphia Eagles roundup: Philly is helping out in crisis again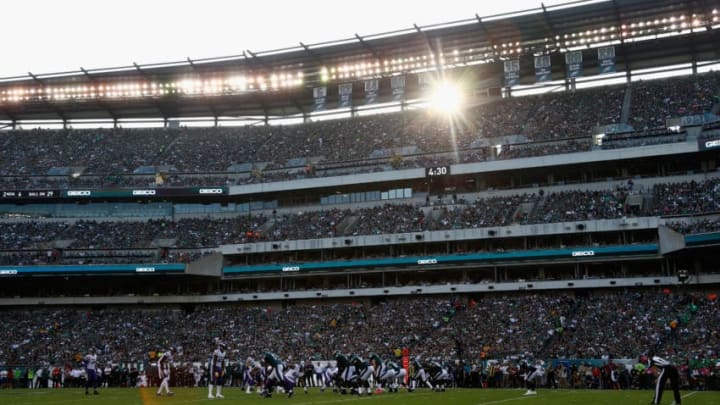 PHILADELPHIA, PA - OCTOBER 07: A general view is seen as the Philadelphia Eagles take on the Minnesota Vikings during the second quarter at Lincoln Financial Field on October 7, 2018 in Philadelphia, Pennsylvania. The Vikings won 23-21. (Photo by Jeff Zelevansky/Getty Images) /
Philly lends a helping hand in the midst of the landfill crisis in this edition of 'Philadelphia Eagles Roundup'. This is a franchise that's easy to love.
If there's ever been an NFL franchise with so many good guys on the roster, it's hard to remember when that was. The Philadelphia Eagles are, literally, a franchise full of philanthropists, Christians, a Walter Payton NFL Man of the Year winner and a collection of guys who own their own charities.
Heck, their owner, Jeffrey Lurie, is constantly working with his Eagles Autism Challenge, and that Walter Payton NFL Man of the Year Award winner, Chris Long, gave away an entire season's worth of game checks to charity. This is, truly, a team that's easy to cheer for (even if you're not a football fan).
Recently, they dove head first into another positive venture, helping out with the current landfill crisis.
Ina report by Forbes, writer Kate Harrison made this statement:
"At the current pace, it is estimated that the US will run out of landfill capacity by the year 2036, and even sooner in several regions. The situation is further impacted by an anticipated world population growth from 7.7 billion to 8.6 billion people by 2030 with its looming strain on resources and the environment. Fighting our trash crisis is a big business, and without a single solution at the forefront, there's lots of room for innovative companies to get into the game."
What's this got to do with the Eagles you ask? Are you familiar with Philly's Go Green Program? Ever since Lincoln Financial Field opened in 2003, an initiative that began with a few recycling bins to help combat with a waste issue at the stadium became a program intent on operating on clean energy, eliminating plastics from concessions, and utilizing an on-site aerobic digester.
It's a technology that's designed to help with the waste management issue. Harrison brilliantly gives a detailed explanation of what they are and how they work in her story.
This technology has assisted in the elimination of 4,000 tons of waste yearly and almost 50 tons of food waste to date.
Our nation's waste issue has become one that many look at with passivity, but small gesture like the one the Eagles are making helps out more than you know. Those of us who are in love with our environment and want to keep Planet Earth as beautiful and as clean as possible, are in full support of the Eagles and their Go Green Program.
Hey, it's just another reason to cheer for a team that has given us so many reasons to cheer for them already.