Miles Sanders' road to joining the Eagles is quite similar to LeSean McCoy's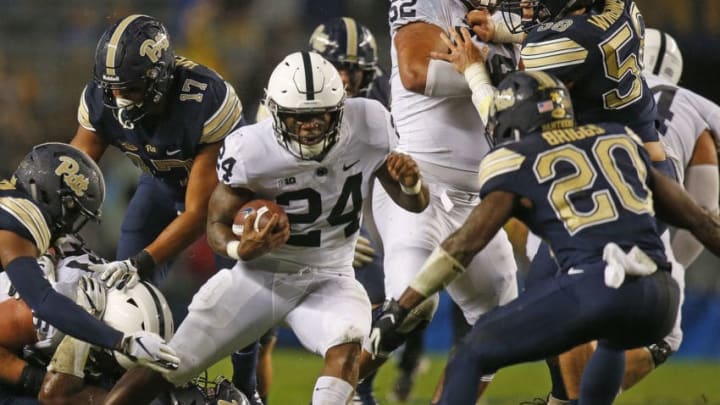 PITTSBURGH, PA - SEPTEMBER 08: Miles Sanders #24 of the Penn State Nittany Lions rushes against the Pittsburgh Panthers on September 8, 2018 at Heinz Field in Pittsburgh, Pennsylvania. (Photo by Justin K. Aller/Getty Images) /
The Philadelphia Eagles finally prioritized the running back position by selection Penn State's Miles Sanders.
It felt like the Philadelphia Eagles would never patch up the backfield through the NFL Draft. They would sign veterans via free agency, trade for guys, and acquire undrafted prospects without using a pick, but the Eagles never seemed to care enough to draft a guy with a high pick. Over the year's it's been frustrating to watch – but finally, nobody can complain anymore.
Not only did the Eagles trade for one of the league's top producers over the last three seasons. But they also spent a second-rounder on a running back by drafting Penn State's Miles Sanders. After years of complaining by Eagles fans, Howie Roseman has finally heard everybody out and made a difference through the draft.
"Guess what? We got a running back! We draft running backs in Philadelphia!" Roseman joked about making the selection for a new rusher on Friday night after their two picks concluded. While Howie had jokes for the media and the fans, the similarities between this year's second-round selection and a pick from 2009 should have everybody in Philly seriously excited.
Remember the 2009 draft?
Back in 2009, the Eagles were on the clock with the 53rd overall pick in the second round. They decided to hand in their draft card, which had former Eagles' running back LeSean McCoy's name on it. Obviously, everybody knows what McCoy did during his time in Philadelphia.
And had it not been for Chip Kelly, McCoy would still probably be in midnight green today. However, the Eagles have been trying to fill the void of McCoy for a while now, and they might've done just that by grabbing Sanders with the same pick ten years later.
When McCoy joined the Eagles, he was a Pennsylvania-born kid, who played high school ball in PA. Instead of leaving the state for college, McCoy had no choice but to go to Pittsburgh, since they were one of the few schools still interested in him after a devastating knee injury in high school. McCoy would get selected by the Eagles with the 53rd pick in the draft.
Now, the Eagles have Miles Sanders, a Pennsylvania-born kid, who happened to be from Pittsburgh, but instead attended Penn State. Although he wasn't the superstar that McCoy was at college, Sanders' lone season as the starter for the Nittany Lions surely made an impression on scouts. Philly was so impressed that they decided to spend the 53rd pick on him.
Just like they did with McCoy, the Eagles are getting an all-around talented back, who can run and catch out of the backfield. Now, will Sanders reach the same heights that McCoy did during his career with the Eagles? That remains to be seen. But so far, his path to the Eagles is a familiar one, which makes the selection much more exciting.