5 Dark horse roster candidates to make Philadelphia Eagles roster
There are quite a few new and familiar faces who have a real serious shot at making the Philadelphia Eagles roster. Here's a look at five of them.
The rookies and veterans report to training camp on July 24th for the Philadelphia Eagles. There aren't any expected holdouts seeing as how Malcolm Jenkins was present for minicamp. Here's the thing though. It may seem like the roster is set for the most part, but trust and believe that the best of the best will make the team.
That means we'll be looking at some pretty serious roster battles all camp. That's especially true for the guys at the bottom of each position's depth chart.
We could all talk about three or four of the wild cards at each position all day, but rather than do that, let's take a look at some of the guys that have been mentioned by the coaches, the media, and the players themselves.
1. Joe Ostman
Ostman's a six-foot-three, 259-pound defensive end that will probably have a tough time overtaking Shareef Miller and Josh Sweat on the Eagles' depth chart. Philly figures to walk into the regular season with about five defensive ends, and with Derek Barnett and Brandon Graham being the certainties (and with Vinny Curry being another possible lock), Ostman's got some work to do.
The coaches have nothing but good things to say about him though. That says a lot.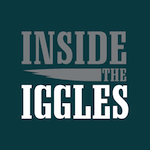 Want your voice heard? Join the Inside The Iggles team!
Write for us!
2. T.J. Edwards
Philly's best linebackers are Zach Brown, Nigel Bradham, and, probably, Kamu-Grugier Hill. T.J. Edwards may be undrafted, but quite a few draft experts are wondering how that happened. It's been good for the rookie to this point. If he has a solid training camp, he could surprise people.
3. Tre Sullivan
Here's a guy who has had the benefit of getting some valuable playing time a season ago. He's learned from both a release after a crucial special teams error in the opener and some valuable snaps from October on when he was promoted back to the active roster.
Andrew Sendejo is the guy many sees as the third safety behind Malcolm Jenkins and Rodney McLeod, but if he doesn't make the squad, Philly gets a compensatory pick in next year's draft. That could get Sullivan, Deiondre' Hall, and Blake Countess some extra looks.
Here's a guy who made a name for himself in the Spring thanks to some injuries to some other wide receivers. Keep an eye on him. The Eagles' coaches sure are. He's got a huge hill to climb though.
5. Boston Scott
Here's the guy that may be the valedictorian of this class. Eagles head coach Doug Pederson loves Scott's anility in the return game. Others began paying attention when he started drawing comparisons to Darren Sproles.
The Eagles may take four running backs into the regular season. That probably means Scott is out, but if they go with five, or if Scott explodes in training camp, anything can happen. This may e the dark horse with one of the better shots to make the roster.