Revisiting 5 iconic statements in Philadelphia Eagles lore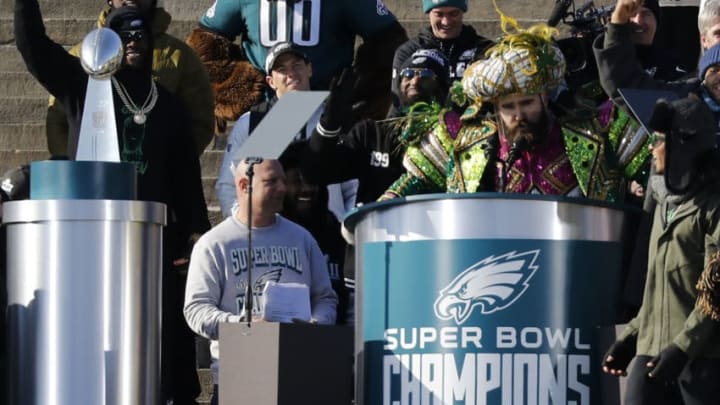 PHILADELPHIA, PA - FEBRUARY 08: Center Jason Kelce speaks at a ceremony honoring the Philadelphia Eagles Super Bowl win on February 8, 2018 in Philadelphia, Pennsylvania. (Photo by Aaron P. Bernstein/Getty Images) /
4. 'You want Philly Philly?' – Nick Foles, February 2017
Philly's first-ever Super Bowl win carried the type of drama and intrigue that most would expect from a good motion picture. This one had everything. There were twists and turns. There were unexpected heroes and drama. There was a dynasty within a dynasty that doubled as the foil.
Super Bowl LII wouldn't have been the same if it featured the Jacksonville Jaguars. The Eagles hoisted their first Lombardi Trophy after taking care of business versus, arguably, the greatest coach and the greatest quarterback in the history of our great country's greatest game.
There was Malcolm Jenkins' knockout shot, Brandon Graham's strip-sack, LeGarrette Blount's jaunt into the end zone, and Corey Clement's toe tap in the back of the endzone, but there's one moment that stands out above them all. It's the 'Philly Special'.
Why? There isn't a single moment in the Eagles' championship run that encompasses what that 2017 season was more than an undrafted rookie running back (Clement) taking the snap from center, tossing the ball to a third-string tight end (Trey Burton), and watching him throw a touchdown pass to a backup quarterback (Nick Foles). The 'Philly Special' reigns. You can even run it on EA Sports' Madden game now.
Here's what Foles should have said: 'You want Philly Philly?' (What? Did you think that we were going to change something?)