Max Kellerman makes an awful claim in reference to Carson Wentz
Did you happen to notice an exchange over Carson Wentz between Stephen A, Smith and Max Kellerman that occurred on First Take recently?
On what was supposed to be a segment on whether or not the Philadelphia Eagles should acquire Antonio Brown, Max Kellerman and co-host Stephen A. Smith got into it on ESPN's highly popular First Take. The sports debate show is no stranger to hotly contested ideas, and last week's episode was no different. This time, the subject was Carson Wentz.
What began as a seemingly straightforward argument about whether the Eagles should give Antonio Brown a chance escalated into a trademark shouting match between Smith and Kellerman.
Here it is in case you missed it. Popcorn is recommended.
https://twitter.com/FirstTake/status/1191771484634722305
Kellerman's point isn't that the receivers have developed a tendency to drop balls because they don't respect Wentz as a leader. His argument is actually that the Eagles receivers lack the mental toughness when attempting a catch because Wentz has failed to motivate them. Regardless of what you believe Kellerman's intention was, he's still incorrect.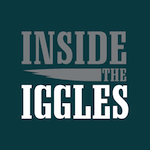 Want your voice heard? Join the Inside The Iggles team!
Write for us!
Wentz's leadership isn't to blame for the receiving corps' recent shortcomings. A professional athlete is required to do their job to the best of their ability. They shouldn't rely on somebody else to get them prepared mentally. It absolutely helps to have the support of teammates, but that has nothing to do with performance.
Using Nick Foles' performance in Wentz's absence as an argument is a lackluster one. Kellerman and others who agree have forgotten that the offensive playbook was modified after both of Wentz's injuries to better suit Foles' strengths.
Also, dropped passes weren't a major issue prior to Wentz's injury against the Los Angeles Rams. Therefore Foles' leadership has nothing to do with the receivers' production or lack thereof when Wentz was at the helm. There's no reason to even revisit any narratives on Wentz's leadership.