Philadelphia Eagles waiving Mack Hollins long overdue
The Philadelphia Eagles waived Mack Hollins on Tuesday after promoting Sua Opeta to the roster.
When looking at the wide receiver situation surrounding the Philadelphia Eagles throughout the 2019 season, one would think that Mack Hollins would have been able to take advantage of the additional playing time.
From DeSean Jackson dealing with an unfortunate injury since Week 2 to both Alshon Jeffery and Nelson Agholor dealing with injuries at times, the opportunities have certainly been there for Hollins to step up during his third NFL season.
So with the news breaking on Tuesday that Philadelphia decided to waive Hollins to make way for Sua Opeta on the roster, this can best be described as a move that seems long overdue for the Eagles since other than special teams, the wideout wasn't really bringing much to the table.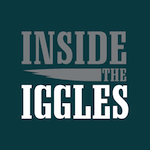 Want your voice heard? Join the Inside The Iggles team!
Write for us!
The fact that Hollins only caught 10 passes in 12 games this year for 125 yards shows the offense won't be hurting too much moving forward with the North Carolina product no longer part of the picture.
Leading up to roster cuts after preseason, Hollins was one of the top players on bubble watch, and while Philadelphia seemed confident enough that he would bounce back after missing all of last year with a groin injury, this was clearly far from the case.
In 28 games since coming on board in 2017, Hollins only managed to haul in 26 catches for 356 yards to go along with just one touchdown to show once again the decision to move on shouldn't be viewed as a big deal for the Eagles.
If anything, the fan base should feel more frustrated over the fact that Hollins took up a roster spot that easily could have been used for someone else, someone who would have found a way to make more of an impact on offense.
Philadelphia already seemed to have a good idea that wide receiver would be one of their top needs once the offseason officially started, and waiving Hollins makes it seem like this will become even more of a top priority.
Most likely, some other team will give Hollins an opportunity to redeem himself since fresh starts sometimes help certain players get back on the track, but at least after this latest move, he's no longer Philadelphia's problem to worry about.