Philadelphia Eagles Rival Watch: Cowboys hire McCarthy, 3 reactions
Guess what Philadelphia Eagles fans? The Dallas Cowboys have made their decision, and it's Mike McCarthy. Here are three reactions.
By now, you've seen the news, and it's probably already been retweeted 250, 000 times on Twitter. The Dallas Cowboys have made their decision, and it's Mike McCarthy. There's some news that should make Philadelphia Eagles fans or fans of any other team take notice.
McCarthy spent Saturday night at Jerry Jones' house. Dallas announced the decision on Monday. Here are three reactions to the news.
1. Why him?
According to Jay Glazer and several verifying sources, including ESPN's Adam Schefter, Dallas didn't want to hire any coach from the collegiate level, which rules out the likes of Lincoln Riley and Urban Meyer. They also didn't want to hire anyone from the professional level that didn't have head-coaching experience.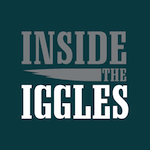 Want your voice heard? Join the Inside The Iggles team!
Write for us!
2. Well, you know that we had to discuss this?
In seven games versus the Eagles, McCarthy won five games and lost two. He owns a career record of 135-85-2, including the playoffs. After being fired by the Green Bay Packers on December 2nd of 2018, he was mentioned as being a candidate for the vacant New York Jets, Arizona Cardinals, and Cleveland Browns jobs.
He declined both Arizona and Cleveland, and the Jets decided to go with Adam Gase. As most of you know, he sat out of coaching altogether in 2019.
3. Here are two big questions about this hire
For years, we've seen McCarthy as being a quarterback whisperer. That makes us all immediately speculate on what he may be able to do with Dak Prescott. The downside of that if you're a Cowboys fan and consequently the upside if you like Philly, has been that there were rumblings towards the end of his run in Green Bay about his inability to adapt to the times and make adjustments. That's number one.
Number two is this. Why did he spend the night at Jerry's house? Doesn't it just feel like this is Jerry's way of saying 'I'm going to be involved in everything and you need to know who's in charge here'? The soap opera continues in 'Big D', but we know who will be on the sideline now. We've never had any questions about who will be in the press box.
On the surface, this looks like a match that won't work, and that should make you smile if you're an Eagles fan.