49ers offense sparks memories of Philadelphia Eagles Super Bowl squad
This year's 49ers offense is eerily reminiscent to that of the Eagles Super Bowl LII team. Pull up the numbers, and you'll see a ton of similarities.
Before you even read a word after the title, it's easy to ask yourself a very serious question. "What do you mean these two offenses are similar"? The Philadelphia Eagles were a well-oiled machine for much of the 2017 regular season and down the stretch of the playoff run that we all saw at the beginning of 2018.
A closer look shows that much of what we've all seen from this year's version of the San Francisco 49ers features some individual performances eerily similar to some of the ones we saw during the 'Birds' run. Take a closer look, and see for yourself.
Here are the stat lines from both offensive units.
Let's start off with the total offensive numbers before we get into what the quarterbacks, running backs and wide receivers did.
According to the Niners official team site, the offensive stats are as follows: 336 first downs, 110, 195, and 31 first downs by the running game, passing game, and by penalty respectively. San Fran racked up 6,097 total yards on offense, 2,305 rushing yards, 4.6 yards per rush, 3792 passing yards, 56 total touchdowns, and an average time of possession of over 31 minutes.
According to PhiladelphiaEagles.com, Philly did this in 2017: 338 first downs, 108, 193, and 37 first downs by the running game, passing attack, and by penalty, 5,852 yards on offense, 2,115 rushing yards, 5.5 yards per rush, 3,737 passing yards, 53 touchdowns, and an average of over 32 minutes in time of possession.
Crazy huh? Just wait. It gets much better.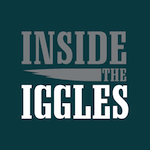 Want your voice heard? Join the Inside The Iggles team!
Write for us!
Here's what the quarterbacks did.
Jimmy Garoppolo completed 329 of 476 passing attempts for 3,978 yards. He threw 27 touchdowns versus 13 interceptions and completed 69 percent of his passes. He was sacked 36 times. Carson Wentz went 265 of 440 for 3,296 yards. He tossed 33 TDs. He threw three picks and completed 60 percent of his passes. His longest completion went for 72 yards, and he was sacked 28 times.
Let's look at the running game.
The 49ers relied heavily on a committee system, where Raheem Mostert had 137 attempts, racked up 772 rushing yards, and eight touchdowns. Add that to Tevin Coleman's 137 attempts, 544 rushing yards, and six touchdowns. Matt Breida had a very respectable123 attempts for 623 rushing yards and one touchdown.
Philly's three-headed monster was equally as productive for the 'Birds' in 2017. Jay Ajayi had 208 attempts for 873 rushing yards and one touchdown. LeGarrette Blount toted the rock 173 times for 766 rushing yards and two touchdowns. Corey Clement chipped in with 74 attempts for 321 rushing yards, and four touchdowns.
Here are some receiving numbers.
You may have found this out already, but the 49ers have one of the best tight ends in the game in George Kittle. He registered 85 receptions for 1053 receiving yards and five touchdowns in 2019. San Fran's two most productive receivers contributed well all season. Emmanuel Sanders hauled in 66 receptions for 869 yards and five touchdowns. Deebo Samuel snagged 57 receptions for 802 yards and three touchdowns.
Philly's got an all-world tight end too. Zach Ertz tallied 74 receptions for 824 yards and eight touchdowns in 2017. Nelson Agholor helped the championship cause with 62 receptions for 768 yards and eight touchdowns. Alshon Jeffery grabbed 57 receptions for 789 yards and nine touchdowns.
Both the Eagles and Niners won their respective divisions with 13-3 records. Both teams were the number-one seeds in the NFC. Both have had their doubters about whether or not they can hoist the Lombardi Trophy. Things worked out well for Philly. Will the Niners' 2019-2020 season end similarly? We won't have to wait much longer to find out.