Philadelphia Eagles should avoid Amari Cooper in free agency
With the NFL free agency period just over a month away, the Philadelphia Eagles have a glaring need at wide receiver, but Amari Cooper is one playmaker they should avoid.
For the past two seasons, Philadelphia Eagles fans have dreaded the name Amari Cooper, as the Dallas Cowboys wide receiver has dominated Jim Schwartz's secondary just about every time.
As the Eagles head into the 2020 free agency period, many fans would salivate at the idea of stealing away Cooper from the Cowboys and giving quarterback Carson Wentz an explosive weapon that would make Philadelphia's offense more dynamic.
This past season, Cooper recorded more than 1,100 receiving yards to go along with eight touchdowns to provide Dak Prescott with a top No. 1 receiver to lean on.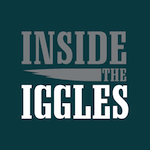 Want your voice heard? Join the Inside The Iggles team!
Write for us!
Since Cooper arrived in Dallas, the difference the wideout's presence has made for Prescott is huge.
Although Cooper has been effective stat-wise, and on paper will appear to be a great addition to whatever team he lands on, there are still reasons the Eagles should still avoid him.
Some of Cooper's numbers may be deceiving since while it was great to see him finish with more than 1,100 receiving yards this season, it should be noted that he only went for more than 100 yards in four games.
Unfortunately, this should leave many football fans to believe that Cooper is too much of a boom or bust type player.
Some games, Cooper tends to be a nightmare, and appears to be all over the field the entire time, only to completely disappear the next few games.
Obviously, the Eagles lack consistency at the wide receiver position, so the last thing they can afford is to sign Cooper, and see him disappear during some of the team's biggest games.
Currently, the Eagles have $44 million in cap space heading into the offseason, and while the wide receiver is clearly one of the team's biggest needs, there are still plenty of other holes to fill.
Without question, Philadelphia needs major upgrades in the secondary, at linebacker, and should consider adding another pass-rusher or two.
The Eagles also need to figure out what they will do with safety Malcolm Jenkins, who wants his deal re-done this offseason. Cooper would likely warrant upwards of $10 million a year and that money should be spent in other areas of need for Philadelphia.
At the end of the day, many mock drafts and rumors having the Eagles taking a wide receiver in this upcoming draft, which seems fair since this may go down as one of the best wide receiving drafts of all time.
Wideouts like Henry Ruggs III from Alabama and Tee Higgins from Clemson are just two of the wide receivers that the Eagles may be interested in come April.
At the moment, the Eagles have 10 picks in the upcoming draft, and need to maximize young, cheap talent. I
Since Wentz's contact will become more expensive heading into 2020, it will become pivotal that the Eagles hit on draft picks in April.
Philadelphia may be able to grab a few wideouts this April, so spending cap space on an inconsistent wide receiver like Cooper who turns 26 in June just doesn't make a ton of sense for the Eagles this offseason.