Philadelphia Eagles right to take time with offensive coordinator search
The Philadelphia Eagles find themselves still searching for a new offensive coordinator after over two weeks, but this isn't necessarily a bad thing.
When the Philadelphia Eagles announced the firing of offensive coordinator Mike Groh along with wide receiver coach Carson Walch, there weren't many fans who expected the team to still be searching for a new offensive coordinator more than two weeks later.
Many of the Philly faithful are growing increasingly impatient as a result, especially with other teams filling their coaching vacancies far faster.
However, despite this impatience from the outside, the Philadelphia's internal patience should be viewed as a positive.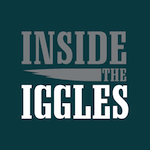 Want your voice heard? Join the Inside The Iggles team!
Write for us!
While many appealing prospects, such as former Eagles quarterbacks coach John DiFilipo, were snatched up by other teams before one could even say "RPO," nothing has happened at the moment.
Not to mention, other potential candidates such as former Eagles backup quarterback, and current Kansas City Chiefs quarterbacks coach Mike Kafka chose to stay put.
As much as Eagles fans may not want to hear this, it's easy to see why many are growing restless due to the perception that the Eagles are missing out on all the good candidates.
Even with these swift developments around the league, it doesn't mean the cupboard of candidates is completely bare.
Former Indianapolis Colts and Detroit Lions head coach Jim Caldwell is still a very appealing option, especially after recently stepping down as a staff member of the Miami Dolphins. Caldwell would bring a winning pedigree, and an extra level of maturity that the increasingly young players getting playing time could rally behind.
Other appealing outsiders include San Francisco 49ers passing game coordinator Mike LaFleur, or even ESPN analyst Dan Orlovsky finds himself in the middle of coaching rumors, as his love for Carson Wentz is well documented.
The Eagles could always look internally too. Running backs coach Duce Staley is a locker room favorite, and is seen as one of the better running back coaches in the NFL. There were also many who thought he should have gotten the promotion over Groh in the first place.
All in all, this is a big decision for Jeff Lurie and Doug Pederson's Eagles. It is not a decision they can make rashly or hastily. While other team's speed in hiring coordinators may draw ire amongst the general public, it's good that the team is taking their time with this decision.
Yes, Pederson is the primary play caller, but the offensive coordinator is still a significant role. Look at the drop off from Frank Reich to Groh.
This decision is a huge one, and one that can shape the franchise for years to come. Philadelphia is right to take their time to ensure they make the right call, and we're all just going to have to be patient, no matter how frustrating this may sound.