Philadelphia Eagles news: 3 Reasons Cowherd is right about Carson Wentz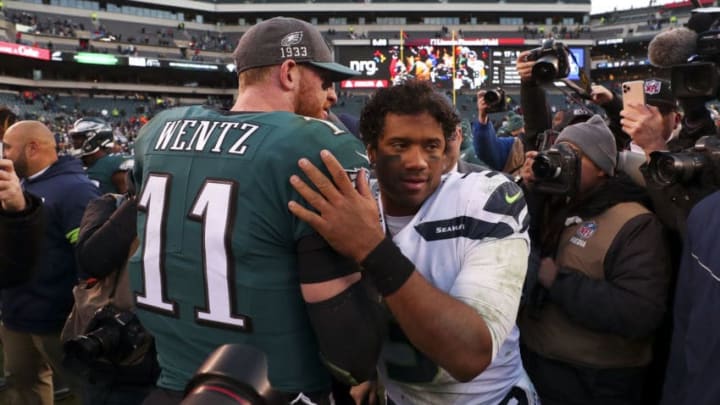 PHILADELPHIA, PA - NOVEMBER 24: Russell Wilson #3 of the Seattle Seahawks hugs Carson Wentz #11 of the Philadelphia Eagles after the game at Lincoln Financial Field on November 24, 2019 in Philadelphia, Pennsylvania. (Photo by Mitchell Leff/Getty Images) /
Russell Wilson #3 (Photo by Mitchell Leff/Getty Images) /
3. Look at how eerily similar the Philadelphia Eagles star's numbers are to those we've seen from the man we call "DangerRuss".
Carson Wentz and Russell Wilson are alike in many ways, and that's true whether you've already taken notice of that or not. Both can throw the deep ball. Both have an innate ability to escape trouble and make plays that only a handful of quarterbacks can make. They both were a part of Super Bowl-winning teams in their sophomore NFL seasons.
Their numbers are similar too. Believe it or not, Wentz already has four NFL seasons in the books, and over that time, he threw for 14.191 yards, 97, touchdowns, and 35 career interceptions. He's turned in another 785 yards and three touchdowns on 206 career rushing attempts.
Russell Wilson, in his first four NFL seasons, turned in 13.974 passing yards, 106 passing touchdowns, and 34 picks to go along with 2,430 rushing yards and 12 rushing touchdowns with his legs. Sure, he tucked the ball and ran a little more often than Wentz, but as mentioned earlier, there aren't many guys in the current NFL that have the physical gifts that Wentz and Wilson possess. That's where we'd have to introduce guys like Aaron Rodgers, Deshaun Watson. and Lamar Jackson into the conversation.
Cowherd's right. There are similarities, but perhaps, the most important part of this story is Wilson has never lost to the Eagles. The "Birds" are close to solving the riddle. Two 17-9 losses during the 2019-2020 season demonstrate that, but the hope is Philly can conquer the Seattle Seahawks hurdle with a win in Week 12. By the time we get there, we'll get a chance to see both of these stars on Monday Night Football come November 30th.