Fanatics top-selling Philadelphia Eagles jersey isn't Carson Wentz's
What if we told you the top-selling Philadelphia Eagles jersey wasn't Wentz's?
Could we actually be entering an era where Carson Wentz is no longer the most popular player on this Philadelphia Eagles team? It's hard to beat the quarterback in a popularity contest. In a sport where everybody wears a helmet while playing, it can be hard to identify who guys are if you're a casual fan, but there's one thing that you can bank on.
Everybody knows who the quarterback is. Come on. Would Tom Brady have gotten Gisele Bündchen's attention if he was the slot receiver for the Detroit Lions? Oh, and by the way, as much as people tell you they hate Tom Brady and the New England Patriots, look at his jersey sales over the last decade. What you see might shock you.
Guess which Philadelphia Eagles star leads the team in terms of jersey sales.
When you think of quarterbacks and how much love they get from the general public, Philly's QB1 comes to mind. Two years ago, he led the league in jersey sales. After the 2018 campaign, despite suffering his second season-ending injury in as many seasons, he still landed in the top ten.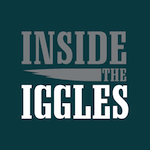 Want your voice heard? Join the Inside The Iggles team!
Write for us!
Fast forward to the present, and things are a tad different. According to Brian Fonseca of NJ.com, another Eagle leads the way as we head into 2020's regular season. Guess who it was. Zach Ertz? Nope, you'd be incorrect. Okay, we'll go defense and go with Philly's best player. Is it Fletcher Cox? Nope. It wasn't him either. How about a new guy, Darius Slay? Hit the incorrect buzzer. It has to be a legend then, Brian Dawkins. Wrong again. Philly's top-selling jersey, according to Fanatics, belongs to Miles Sanders.
Just go to their site to do a little shopping. Adjust the search bar to reflect top-selling Eagles paraphernalia. Let us know what you see. You know what though? It makes sense when you think about it. You can say what you want, but jersey sales tell us a lot. If you're into that kind of thing, it can tell you who some of the most popular players on the team are.
Sanders stock went through the roof in 2019 as a rookie. If he has another year like that in 2020, he may even top his former teammate and good buddy Saquon Barkley as one of the top-sellers in all of the NFL. Wait for it. Don't you allow yourself to believe for one second that it won't happen.