Philadelphia Eagles roster updates, 3 Things to know about Jamon Brown
Here are a few Philadelphia Eagles injury updates and info on the new guy.
A reserve guard? Jamon Brown? Who in the heck is that? Those were the words of some of the Philadelphia Eagles fan base a little over two days following Philly's implosion in D.C. Right around the end of the workday for quite a few people on the East Coast, the 'Birds' announced the signing of Mr. Brown off of the Atlanta Falcons practice squad.
If you don't know much about him, don't worry. There's no need to question your loyalty to professional football. There isn't a ton to discuss. Here's what we know.
Brown was drafted in the third round of 2015's NFL Draft and was placed on the IR in November.
In 2018, he was suspended for the first two regular-season games of that season for violating the NFL's policy on substance abuse.
He's started for the Giants in 2018 and was benched by the Atlanta Falcons in 2019.
He wasn't even ranked among Pro Football Focus' top 50 guards in 2019.
Yes, ladies and gentlemen, this one is a headscratcher. This Eagles offensive line doesn't appear to be any better now than they were 24 hours before this announcement.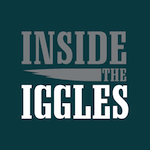 Want your voice heard? Join the Inside The Iggles team!
Write for us!
Let's talk about a few other Philadelphia Eagles injury updates.
In continuing with the usual banter from fans concerning injuries, here's an update on what we all began discussing on Monday. Almost 24 hours after his team's loss to the Washington Football Team, head coach Doug Pederson addressed the media.
It was in that conversation that we learned the injuries to Craig James and Vinny Curry were significant and that they were expected to miss significant time. By the time we reached lunchtime on Tuesday, we had learned via a 1 p.m. EST team announcement, that both Curry and James were headed to the team's IR.
In subsequent moves, the Eagles also elevated Sua Opeta to the active roster and signed tight end Jordan Franks to the practice squad. That left one spot open on the active roster which Philly filled with Brown's addition. The 'Birds' also announced their decision to protect several practice squad players: wideout Deontay Burnett, defensive tackle T.Y. McGill, defensive end Joe Ostman, and cornerback Trevor Williams. Hey, why isn't Ostman on the 53-man roster yet? Well, anyway. In spite of all of the movement, there's not a whole lot to get excited about with any of that.