10 Philadelphia Eagles that need stand out on Thursday Night Football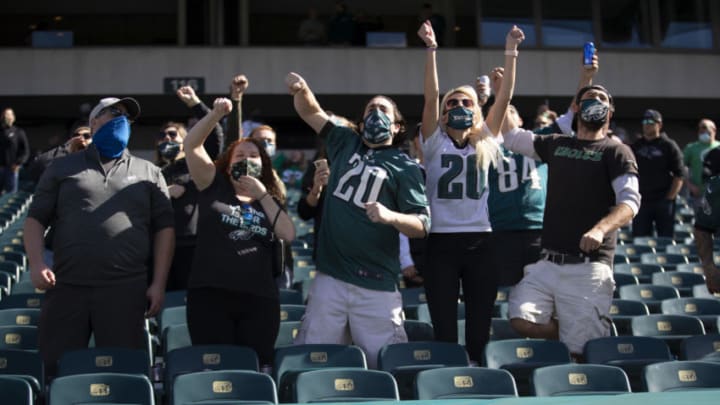 Philadelphia Eagles (Photo by Mitchell Leff/Getty Images) /
Boston Scott #35 (Photo by Sarah Stier/Getty Images) /
Boston Scott needs to provide a spark for the Philadelphia Eagles offense.
Back in training camp, we were all excited about Boston Scott. Most thought that he would make the most of his chances after playing spectacularly down the stretch in 2019. We still remember his three-touchdown performance against the Giants in the regular-season finale, and the expectation was that would continue in 2020.
Alas, that hasn't been the case, and Scott hasn't done much of note. He started in the season opener due to a hamstring injury Sanders was dealing with and racked up 35 yards on nine carries So far, he's racked up 21 carries for 67 yards, and he hasn't been a difference-maker. He'll get the starting nod again in Week 7 on Thursday Night Football, but he'll also need to play better than he has so far.
It's fair to single Carson Wentz out when he makes mistakes. He's the team's biggest star, and accountability starts from the top. This season, he's been reckless with the ball at times and looking for the next big play. He's forced throws that he doesn't really have to, and this boom-or-bust mentality has led him to throw nine interceptions in the first five games of the season after throwing just seven in each of the last three.
Wentz is also the reason why the Eagles have been able to stay afloat in 2020, and he's done so in spite of the fact that he has a less-than-stellar offensive line and wide receiver corps. He had arguably his best game of the season against the Ravens and coincidentally had no interceptions, but again, he did have a costly fumble. Simply put, Wentz is the best player the Eagles have on offense (no disrespect to Lane Johnson or Jason Kelce), but he needs to play like it.