Philadelphia Eagles fans should be overjoyed by Jerry Jones recent comments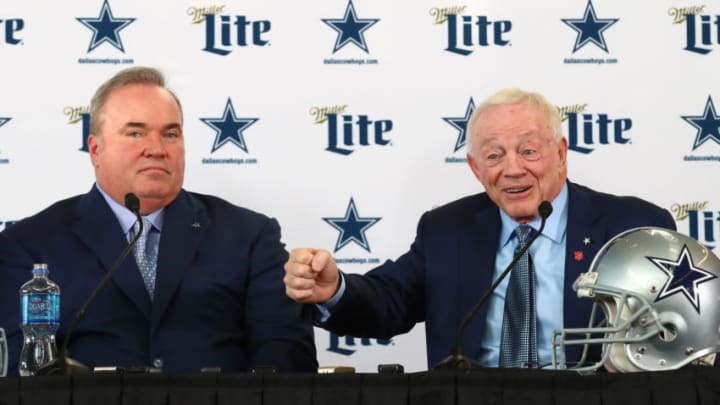 Jerry Jones, Mike McCarthy: Mandatory Credit: Matthew Emmons-USA TODAY Sports /
Jerry Jones gives Philadelphia Eagles fans another reason to smile.
Come on. If you're a Philadelphia Eagles fan, you know how this goes by now. Dallas Cowboys owner Jerry Jones just loves the microphone. He can't get enough it! Who knows when it started. Maybe it was way back in the days when he was getting on Jimmy Johnson's nerves or when he was finding Johnson's replacement, one he could control with a little more success, Barry Switzer.
Seriously, only a man with a need to be the center of attention fires an NFL head coach that just won two Super Bowls, but regardless of when his thirst for the media's attention started, one thing is certain. Good old Jerry has never seen a camera that he didn't love to be in front of.
Yes, everyone realizes that, in addition to wearing the owner's cap, he's also the Cowboys' general manager, but again, do you see any other team's G.M. this much? You might hear from Jeffrey Lurie and Howie Roseman three times annually. NFL fans hear from Jones every three hours, but it's his latest statement that might put a smile on your face if you hate the Dallas Cowboys.
Get a load of this if you're a Philadelphia Eagles fan.
After splitting the annual two games that both of these franchises play versus one another in 2019, the Cowboys have taken six of the last ten games over Philadelphia. That has fans and members of the media thinking. What would it take to establish long-term dominance over Philly's rivals from Texas? Then, without Philly having to do anything, Jerry found another microphone. Here's a quote via DallasCowboys.com.
"Certainly, we couldn't have anticipated being at this stage with our team this year, but if I were going to hire a head coach, that we're going to be at this stage this year and work through this for the betterment of what's in store for us for the rest of the year and for what's for us in the future, I've got my man."
The man he's referring to is Mike McCarthy, a man that has led his team to a 2-5 record after seven games in 2020. That man's defense might be the worst in Cowboys history and could go on to be one of the worst in NFL history, and now, without Dak Prescott, the offense can't move the ball.
According to a nice write-up by NBC Sports' Mike Florio, some of that man's team has already turned on him as they've made anonymous complaints about the new Cowboys coaching staff to the media. Oh, and by the way, when Mccarthy landed in Dallas for the first time, he didn't even think to give Dak Prescott a quick call to talk about a few things. How's that for hitting the ground running?
So, how does Jones feel about what he's seen from his team and his head coach? In a recent interview on 105.3 The Fan in Dallas (gosh, this guy gets around), one where he told the host to 'shut up' and let him answer a question, Jones made a statement that's great to hear if you're an Eagles fan:
"I gave you the answer. When I go into the locker room, there's no leadership void in my eyes. Now that's your answer. Move on."
The next time you're hanging out and talking about how delusional Cowboys fans can be, remember that statement. It appears that Dallas' owner has the same issue, so if you're a 'Birds' fan and you're thinking about ways that Dallas can fall completely off of the NFL's map, rest easy. Jerry Jones is on the job.
It wasn't that long ago that Eagles fans were hoping the Cowboys would re-sign Jason Garrett so Philly could begin to establish long-term dominance over Dallas and their inferior head coach. As it turns out, this Mike Mccarthy experiment may prove to facilitate the Cowboys' demise sooner than expected. Now, wouldn't that be wonderful? From the outside looking in, it appears that the team has already turned on him.