Philadelphia Eagles 2021 Pac-12-only, 3-round NFL mock draft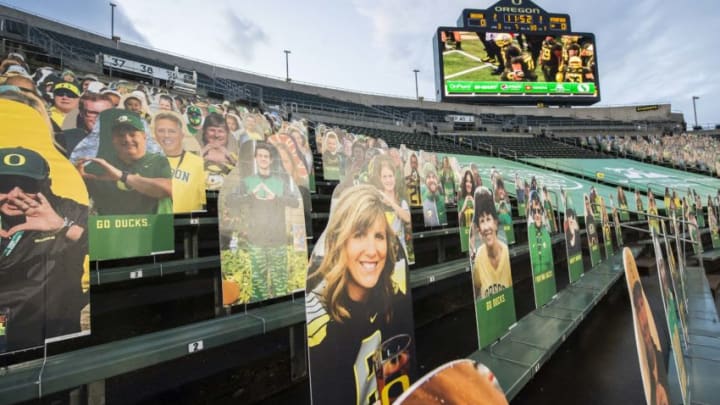 Oregon Ducks Mandatory Credit: Troy Wayrynen-USA TODAY Sports /
Los Angeles Memorial Coliseum, Philadelphia Eagles Mandatory Credit: Kirby Lee-USA TODAY Sports /
In honor of the Pac-12's return, here's an all-Philadelphia Eagles mock draft.
Now, it's starting to feel like football again. The Pac-12 is back. After all of the narratives that said there wouldn't be any NFL games, the Philadelphia Eagles took the field in Week 1 of 2020's regular season for a game versus the Washington Football Team. It was ugly. They lost, but at least they were back, you know?
Depending on whether you're a 'the glass is half empty' or a 'the glass is half full' person, you're somewhere between making statements that Eagles football never truly got started or you're planting your flag and beating your chest because the Eagles are in first place despite a 3-4-1 record.
Meanwhile, the climb back to normalcy in the NCAA was a little more tumultuous. We heard that several conferences would cease operations, for a year at least, but slowly and conference by conference everyone started showing up to a party that took some time to get going. First came the Big 12, then the ACC and SEC. The Big Ten flexed their muscle and now, as mentioned earlier the Pac-12 is back in business.
It's time to celebrate the only way the ITI staff knows how, with a way-too-early, three-round Eagles-only NFL mock draft. Let's have a little fun.