Philadelphia Eagles draft profiles: LSU wideout Terrace Marshall Jr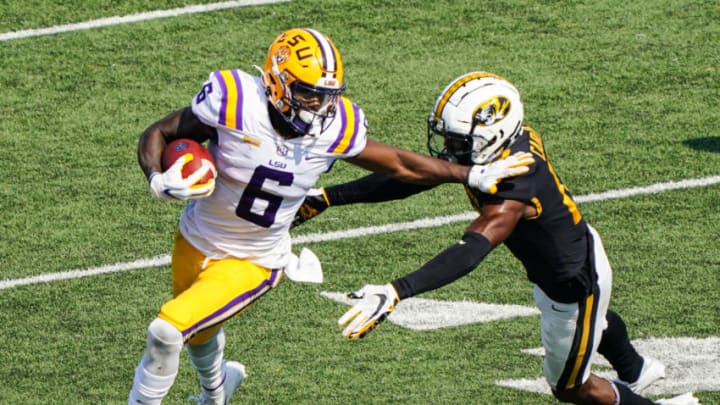 Terrace Marshall Jr. Mandatory Credit: Jay Biggerstaff-USA TODAY Sports /
Louisiana State University wideout Terrace Marshall Jr is a six-foot-three, 205-pound game-changing receiver that would be an immediate upgrade to the Philadelphia Eagles receiving corps. Built to be a true number-one wideout in the National Football League, Marshall is a possession receiver that is a big-play waiting to happen.
In three seasons playing for the Tigers (while sitting behind one star wide receiver after another) Marshall amassed over 1500 yards and a whopping 23 touchdowns. He possesses the game-changing ability and a sneaky raw speed that helps him separate at the top of all his routes. He is a big-bodied prospect and looks for contact while navigating the middle of the field.
Despite the fact that all of the attention goes to star wideout and teammate Ja'Marr Chase, Marshall has been a large cog in the LSU offense for the past few years. Finally, in 2020, Marshall was given the opportunity to be the top target and passed that test with flying colors, despite the fact that COVID-19 made everything harder and he lacked consistent play from the quarterback position.
A scouting source breaks down this potential Philadelphia Eagles prospect.
We spoke briefly to our scouting source and asked him his thought on Marshall's play. While he asked not to be mentioned by name, he did have this to say:
"Marshall reminds me a bit of the Clemson kid (Cornell Powell). You know, he sat behind some great players, and when they got the shot, they did great. Marshall is a guy that can be a star in the NFL if he can keep developing. He can run all the routes, has good speed, and is a tough son of a gun to bring down. The Philadelphia Eagles would be smart to add a guy like him to their offense no matter who the quarterback is."
The Philadelphia Eagles have been in need of some serious wideout help for what seems forever. Adding a player like LSU's Terrace Marshall jr would give them a guy that could become the number one option in no time.
He also gives them a player that they can lean on in big times. Marshall has the big-play ability that the Philadelphia Eagles haven't had in quite some time now, so if he is available early on, they should give some serious consideration to adding him to the roster.