Familiar Philadelphia Eagles who may not make this team in 2021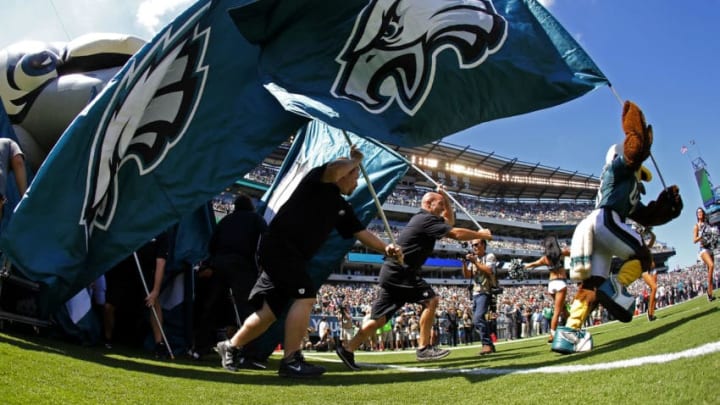 Swoop, Philadelphia Eagles (Photo by Rich Schultz /Getty Images) /
Jordan Howard, (Mandatory Credit: USA TODAY Sports Images) /
Can someone please explain why the Philadelphia Eagles like old running backs?
Talk about having an inability to learn from one's mistakes! The Philadelphia Eagles just can't seem to discern when running backs have taken all of the punishment that they can take.
Yes, it's common knowledge that some of you are absolutely enthralled and in love with the idea of this team's decision to reacquire Jordan Howard. You might even be having visions of LeGarrette Blount's season in 2017, but that isn't going to happen here.
Right now, Jordan Howard is closer to your final memories of Jay Ajayi, Corey Clement, and Darren Sproles than he is to being what Blount was during his lone season in the City of Brotherly Love. Come on. Does anyone else remember that this guy sat out of six weeks of action with a 'stinger' when we were all told that he was 'day to day'?
Does anyone remember what this guy looked like last season with the Miami Dolphins? The Eagles need healthy and capable running backs that are good companion pieces for Miles Sanders. Miami gave up on Howard after five games, and he wasn't better when he got back to Philly! Try seven carries for 27 yards on for size. He looked old. He looked worn down, and it looked like every one of those 27 yards took a further toll on him.
This was a key signing in the minds of some of you, and you're right. Philly won't lose much if this doesn't work, but when it's all said and done, if Howard stays around, this is going to be like Darren Sproles, Corey Clement, Jason Peters, and DeSean Jackson all over again, great Eagles who hung around one year longer than they needed to.
You and this franchise have been warned! It's time for the Eagles brass to pay closer attention to the signs that are right in front of them.