2021's Philadelphia Eagles wouldn't trade Brandon Graham, would they?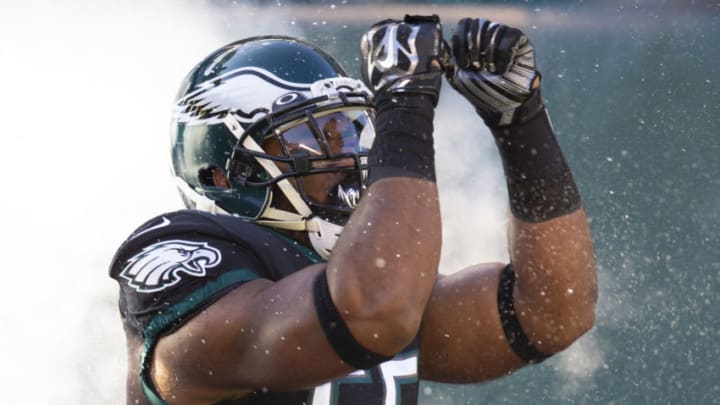 Brandon Graham #55, Philadelphia Eagles (Photo by Mitchell Leff/Getty Images) /
Brandon Graham (55) Derek Barnett (96) Mandatory Credit: Eric Hartline-USA TODAY Sports /
The guy the Philadelphia Eagles should shop is nine years Graham's junior.
How's this for a theory. Part of the reason it isn't quite time to put distance between Brandon Graham and the franchise is this. Most Birds fans and, no doubt, every one of the Philadelphia Eagles' defensive coaches are interested in what Graham can do for an encore after notching his first Pro Bowl nod, one that truly took way too long for fans or B.G. to see. So, again, though interesting, this one of those ideas we can all move on from relatively quickly.
While we're on the subject though, how about this? If the Philadelphia Eagles are looking to do a little 'addition by subtraction' they can move one of their defensive ends, especially after adding Ryan Kerrigan via free agency and Tarron Jackson in the NFL Draft. The play, however, should be to move Derek Barnett.
Sure, he's a little over nine years Graham's junior, but he has yet to do anything consistently that rivals what the Birds are getting from the old man or prove he's worthy of the first-round draft choice Philly used to land him.
When you look at where he was drafted though (again, like Graham, he's a former first-rounder), here are the facts. Oftentimes, we've all seen where teams can be duped into giving up too much for someone because they're talked into the theory that person has 'potential.
If Philly is looking to put Barnett on the fishing line, they'll get a few bites. The thing they have to remember, however, is they're never going to get more for him than they'll get for him right now. If they have any inkling that they want to find some draft capital by moving on, now is the time to make some calls. Brandon Graham, on the other hand, is still someone that helps give this team its best opportunity to win.