Source says Philadelphia Eagles biggest reason for optimism is obvious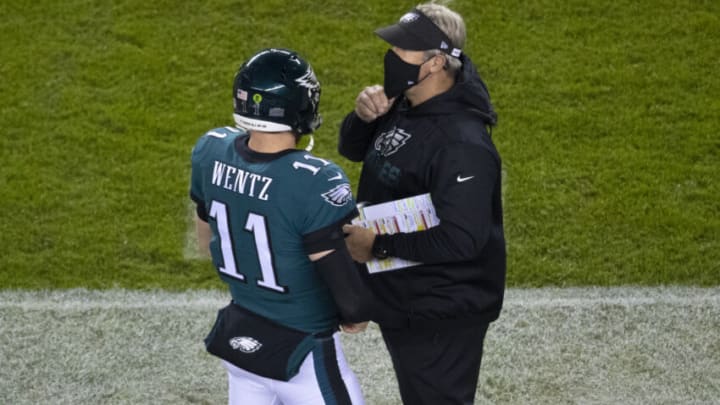 PHILADELPHIA, PA - NOVEMBER 30: Carson Wentz #11 of the Philadelphia Eagles talks to head coach Doug Pederson against the Seattle Seahawks at Lincoln Financial Field on November 30, 2020 in Philadelphia, Pennsylvania. (Photo by Mitchell Leff/Getty Images) /
The Philadelphia Eagles were on top of the NFL world following the 2017 season. They were Super Bowl champions and it felt like Doug Pederson and Carson Wentz would be mainstays with the organization because of the accomplishments that were achieved that season.
Life came at the Eagles fast, however, as the team failed to get back to the big game, and the organization crumbled as a result. A lot of this was a result of Pederson and Wentz's declining relationship, which eventually led to the franchise cutting ties with both guys.
According to Kristopher Knox of Bleacher Report, the disappearing drama between these two is the team's biggest reason for optimism in 2021.
"The Eagles made the postseason three straight times before collapsing in 2020. Poor play from quarterback Carson Wentz and a strained relationship between Wentz and head coach Doug Pederson were an albatross around the franchise for much of the season."There are a lot of things that went wrong," ESPN's Adam Schefter told 97.5 The Fanatic (h/t Bleacher Report's Tim Daniels). "We have the team drafting Jalen Hurts. We have Carson feeling jilted by that. … We have Carson and Doug not talking for weeks on end during the season, where the head coach and quarterback are not talking for eight, nine, ten weeks.""
It's hard to argue with this. While some people might be on the fence with Jalen Hurts and new head coach Nick Sirianni, it's a fresh start for the Eagles and one they desperately needed.
The Philadelphia Eagles cut out the drama this offseason.
Winning a Super Bowl is a tough thing to do and the fact that Pederson led the organization to their only title only to be fired three years later is a testament to how bad his relationship with Wentz had become. Even with this being the case, however, the Eagles decided not to take sides and traded Wentz to the Colts after it was clear he wasn't the same quarterback he once was.
The Eagles are entering a new era and while they have an unproven head coach and a quarterback still needing to prove himself, Pederson and Wentz didn't help the team in recent years and it was time for them to go so that this team could move on and find a way to compete in the weak NFC East.
Will the Hurts-Sirianni combination be the best duo for the Eagles? We don't know yet but hopefully, it doesn't go as poorly as the final few years of the Pederson-Wentz years did.